Try rape, sexual harassment cases under speedy tribunal
Speakers urge govt to end 'epidemic' situation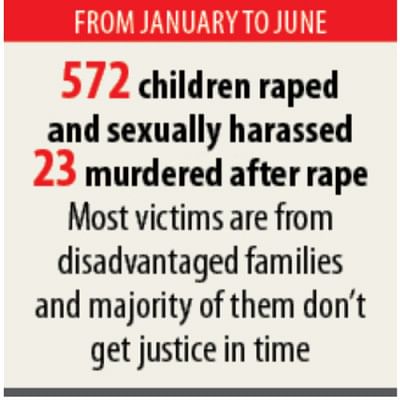 The number of rape and sexual harassment -- particularly of children -- is on the rise across the country due to absence of proper and timely punishment of the perpetrators, speakers said at a press conference yesterday.
Terming the current situation an "epidemic", they suggested that the government ensure justice for the victims through carrying out the judicial process under speedy trial tribunal and give the culprits exemplary punishment.
The press conference was held at Jatiya Press Club in the capital on the occasion of International Day of Rural Women, to be observed today. The National Committee to Observe International Rural Women's Day, an alliance of non-government organisations, arranged the event.
Citing recent data of different rights organisations, Tamanna Rahman, a member of the committee, said at least 572 children were victims of rape and sexual harassment in the first six months of this year.
Of them, 23 were murdered after rape, she said, adding that the number of these incidents is significantly higher than that in the same period last year.
"After analysing the data, collected from various media reports, we have found that most of the victims are from disadvantaged families and the majority of them don't get justice in time," said Tamanna, also a coordinator of Bangladesh NGOs Network for Radio and Communication (BNNRC).
In a keynote paper, she also said the perpetrators are mostly relatives, neighbours and acquaintances. She urged parents to be more cautious in this regard and asked people to change their mindset.
Ferdous Ara Rumee, secretariat coordinator of the National Committee, said that despite the gradual rise in rape and other forms of violence against women and children, the preventive measures taken by the authorities concerned are inadequate.
"The incidents are happening one after another, but not a single effective legal measure is to be found," added Rumee, also an assistant director of COAST Trust.
"The way the situation has turned into an epidemic, the coming days will be more unsafe for children if a social resistance isn't formed along with legal steps," she said.
Stressing the need for speedy trial for the violent incidents, Rumee urged law enforcement agencies to accept cases from the victims and arrest the culprits within the shortest possible time.
Momtaz Begum, chairman of Jatiya Mohila Sangstha; Shamima Akhter, chairperson of the National Committee; and Mustafa Kamal Akanda, coordinator of EquityBD, also spoke at the press conference.
On the occasion of Rural Women's Day, the National Committee will organise various programmes -- including rally, seminar, human chain and fair -- across the country today.