Treading new ground
Women working as gas station attendants in Narayanganj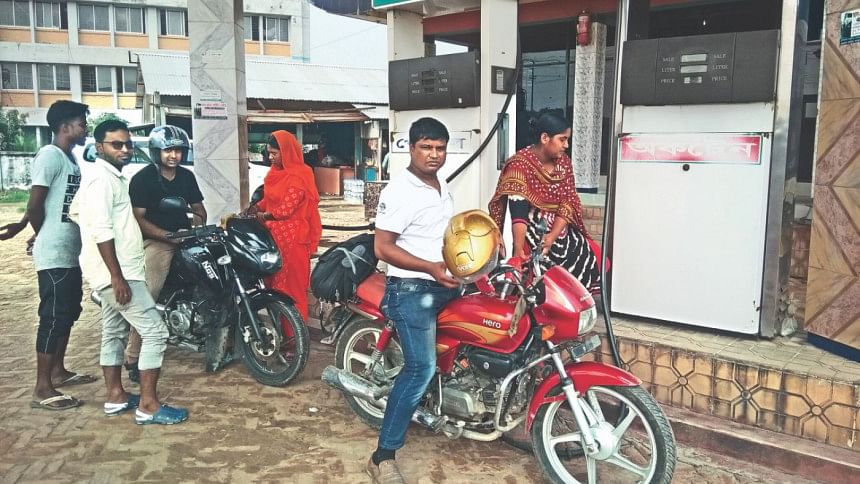 Vehicles queuing up at a filling station beside Dhaka-Chattogram highway in Narayanganj are a common scenario. Be it day or night, the station remains to tend to service seekers.
A group of workers filling up fuel tanks, some helping vehicles maintain lines while others managing transactions -- an every day state of affairs in any gas station across the country.
But what make this particular one in Kamtal area of Bandar upazila unique are its employees -- half of them, women. Though working at a filling station is often characterised as "a man's job", a visit to Plana Filling Station easily breaks that false perception.
It was set up in 2000 and since then women have been working there in various capacities. The work goes on in three shifts -- 6am to 2pm, 2pm to 10pm and 10pm to 6am.
Other than the cashier and manager, three female and one male employees work during the first two shifts. Men work the night shift.
While visiting the place on Monday afternoon, this correspondent met one of the female attendants, Lipi Begum, busy at work.
"My parents married me off to a truck driver at an early age. They thought it would change my luck. But my husband's income was not sufficient to cope with the increasing cost," said the 35-year-old.
"One day I was telling the owner [of the filling station] about my situation and he offered me a job," she added while directing a biker to maintain the queue. "It has been 17 years since I started working here." She said she makes Tk 6,500 a month working an eight-hour shift every day.
"We also get free quarters, utility services and other benefits," said the mother of three, adding that her eldest son, Zakaria Islam, 19, also works at the station.
Zakaria said though he could not go to school and had to start working, they made sure that the younger ones do.
This newspaper also spoke to another employee, Helena Begum, 26.
"It's not heavy work. I fill up the fuel tanks. The only thing is that there's no weekly holiday," she said. "But, if needed, we can take leave."
She added, "It's better than working at a garment factory, where one has to work 12 hours a day..."
"I have been working here for 10 years. Time went by so fast... we work here as a family. I even got married while working here," she said.
Asked about hurdles, she said some impatient drivers often hurl abusive words or some at times make comments after seeing women working at gas station. "Sometimes we protest, but mostly, we try to stay calm," she added. "Not all men are the same. We try to adjust with circumstances."
There's also a couple -- Mohammad Sagar Mia and Rikta Begum -- who work at the filling station. 
"We met here, fell in love and got married," said a smiling Sagar, a supervisor. He said he has been working there for 11 years while Rikta six. "All of us -- men and women -- work side by side. We get paid equally based on our positions," he added.
This correspondent tried to talk to Rikta, but she shied away.
The customers also seemed to be pleased by the service.
Abdullah Al-Mamun, a private job holder, said, "The workers here are always welcoming… I'm a regular here."
Amir Hossain Babul, manager of Plana Filling Station, said around 70 to 80 female workers have worked there so far. "Some worked here for long, some for one to two years. At present, we have six female workers."
"We work here as a team. Other than on-time salary, workers are given a place to stay beside the gas station where they live with their families. Though they do not get weekly holidays as the filling station cannot be kept closed, they are given even 8 to 10 days leave, if necessary," he said.
Contacted, owner Saiful Islam said, "I have seen my mother work hard to maintain our family. But she never complained. Women of our country are patient and hardworking. Given a chance, they always prove their efficiency. That's why I wanted to provide women in my area with an opportunity."
About his female workforce, he said, "My employees are honest and I never hear any complaint against them from service seekers."
He said he has another filling station in Mirzapur of Tangail and half of the workforce there are also women.