Tourism in Sylhet hit hard
Sector incurring daily losses of Tk 2-3cr since March due to Covid-19: SCCI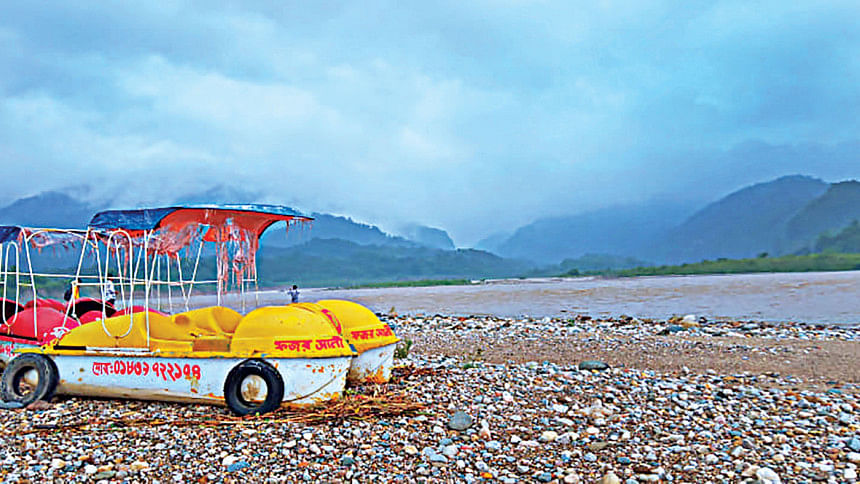 Imagine small boats gliding through snaking waterways, canopied by lush foliage. Suddenly it starts raining over the freshwater swamp and nature embraces all with its serenity.
This is how monsoon is in Sylhet -- unpredictable yet stunning.
And to witness and appreciate such abundance of beauty in the form of waterfalls, swamps, lakes, tea gardens and countless other gifts of nature, thousands flock to Sylhet during this time of the season to relish the experience. The region's tourism sector also depends heavily on the season.
Like previous years, this year was supposed to be no different. But then the country was hit by Covid-19 pandemic.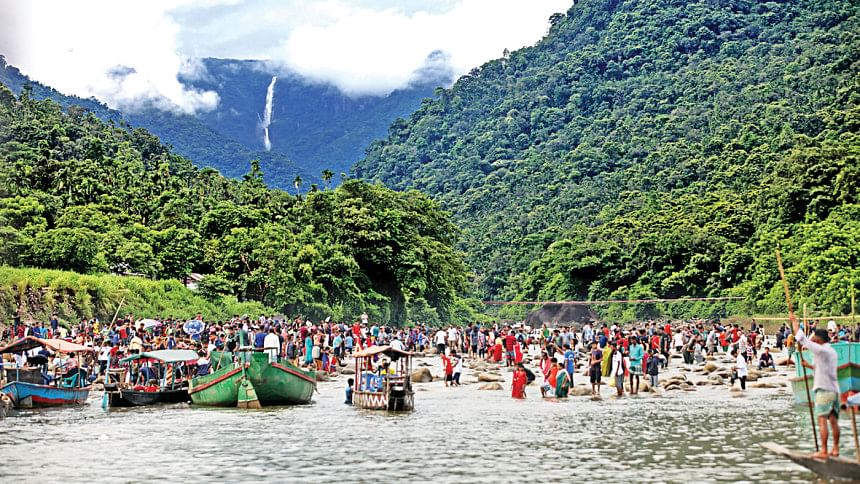 As a result, when all the popular spots in Sylhet such as Ratargul, Lalakhal, Bichanakandi, Sreemangal and many others were supposed to be teeming with people, and it would have been almost impossible to manage rooms at hotels without prior booking, an eerie silence now hangs over the locations.
According to an estimation of Sylhet Chamber of Commerce and Industry (SCCI), the tourism sector has been incurring a loss of Tk 2.5 to Tk 3 crore daily since March 26, after the nationwide shutdown came into effect due to the coronavirus pandemic.
"The sector includes hotels, restaurants, souvenir shops, transportations, boatmen, tourist guides, tour agencies and many others. All are at a loss and in dire need of government support to overcome the situation," said SCCI president ATM Shoeb.
On June 21, after a meeting with SCCI, Sylhet Hotel and Guest House Owners Group declared extended closure of all hotels and guest houses till the situation improves.
"It's impossible to continue businesses maintaining limited access and health protocol. The administration did not provide any detailed instruction on how we should do this," said the group's president Sumat Nuri Juwel.
He said though the government declared stimulus packages, they were not being benefited as all the banks have set their own perimeters to sanction loans with special interest rates.
Nazim Kamran Chowdhury, owner of Nazimgarh Resorts in Sylhet, said, "Both my resorts have been closed since March and we are struggling to maintain and pay our staff. Getting the government stimulus is proving to be tough due to the non-cooperation of banks."
"Even if we do get a loan, how will we repay them soon? It's time the government consider subsidy for all involved in the sector."
Even though the restriction has been eased, people are still not visiting the spots like they used to due to the virus, and it will take time before things become normal, said business and hotel owners.
Quoting Airbnb (an online company that offers arrangement for lodging, primarily homestays, or tourism experiences) CEO Brian Chesky's latest interview with CNBC, Hasan Murshed, an independent tourism consultant, said, "It took 12 years to build Airbnb and now they lost almost everything in six weeks. We are also facing a similar situation in Sylhet."
"Even after the pandemic is over, people will be reluctant to travel. It will be hard for businesses to survive as everything is uncertain. We don't know what future awaits the sector."Meanwhile with almost no tourist visiting, people involved in jobs such as guides, boatmen, photographers, vendors and souvenir sellers are bearing the brunt of the situation.
Arob Ali, a boatman of Ratargul Swamp Forest area, said, "The area was closed days before the nationwide shutdown and we have been struggling since March."
Like Ali, many said they did not receive any support yet.
Contacted, Jabed Ahmed, chief executive officer of Bangladesh Tourism Board, said, "Tourism sector was the first to collapse and unfortunately will be the last one to recover. But we've already prepared a recovery plan which has been approved by the [tourism] ministry. We've also prepared a standard operating procedure (SOP), which is awaiting approval".
"Our response to sustain the sector, however, is limited and we are solely dependent on the government's initiatives. The government offered stimulus; but we need banks to be more cordial in sanctioning them to all stakeholders of the sector," he said.
The CEO continued, "People like boatmen, guides and locals who used to depend on the sector are in distress. We've urged local administrations to bring them under the safety net programme and provide them with help till we revive the sector."
He further added, "This year has been lost to us… we won't be able to recover the losses by December. We need to survive the pandemic together and need everyone's support to sustain."
Asked, Jakaria, additional divisional commissioner (general) of Sylhet, said, "We don't have any special plan to support people involved with the tourism sector. The government is providing monthly cash support and many from the sector are included in the list."
"Additionally, the administration is continuing to provide relief to those in need," he added.