Talented manpower essential for balanced development
President Abdul Hamid tells ULAB's 5th convocation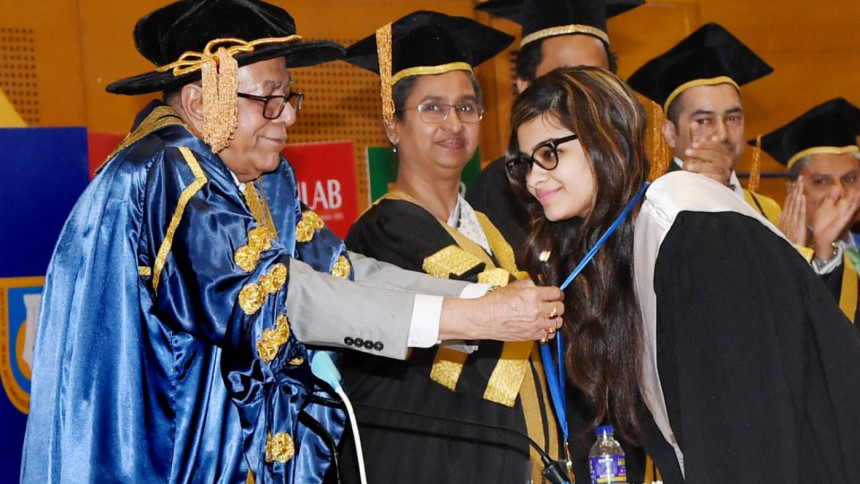 The 5th convocation of University of Liberal Arts Bangladesh (ULAB) was held at Bangabandhu International Conference Center in Dhaka yesterday.
President Abdul Hamid, chancellor of ULAB, presided over the ceremony, says a press release.
He said, "The university is not only a centre for teaching but also the best place for higher education and research. The university's role is very important in making its students world class citizens."
Families also play important roles for achieving their success, Hamid said.
He also said producing creative and talented manpower is essential for balanced development among industries, literature and culture as well as socio-economic situation. Enlightened people can bring positive changes to the society, he added.
Education Minister Dr Dipu Moni, Deputy Minister for Education Mohibul Hassan Chowdhoury and University Grants Commission Chairman Professor Abdul Mannan were present as special guests.
Noted educationist Prof Muhammed Zafar Iqbal spoke on the occasion as the convocation speaker.
Dr Kazi Anis Ahmed, vice-president, ULAB board of trustees; and Prof HM Jahirul Haque, vice chancellor of ULAB, also addressed the programme.
President Hamid presented the valedictorian award to Priyanka Chowdhury of the Department of Media Studies and Journalism.
Besides, Piu Chowdhury of Department of English and Humanities and Mithun Biswas of Department of Computer Science and Engineering from the undergraduate programmes and Rubaiya Hossain Disha of Department of English and Humanities from the graduate programme got gold medals. A total of 1,019 students from undergraduate and 283 from graduate programmes received certificates this year.