Suddhananda Mahathero passes away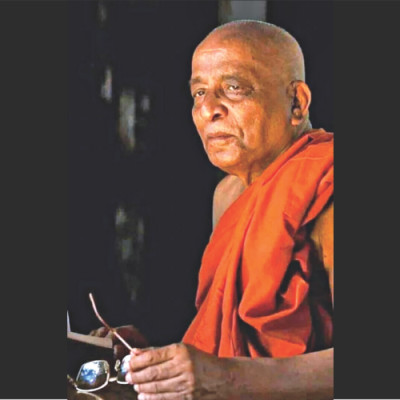 Suddhananda Mahathero, foremost Buddhist religious leader and chief abbot of Kamalapur Dharmarajika Buddhist Mahabihar, passed away yesterday morning while undergoing treatment at a hospital in the city.
He was 87, clinic and monastery sources said.
He had been suffering from respiratory obstruction, diabetes and other old-age complications.
Mahathero is survived by countless disciples, relatives and a host of Buddhist monks and admirers.
According to monastery sources, his body will be kept at his hermitage in Dharmarajika Bouddha Bihar for the followers to have a glimpse and pay tribute.
The mortal remains will be kept preserved into a casket for ceremonial cremation at a convenient time.
Born in 1933, Suddhananda Mahathero received prestigious Ekushey Padak in 2012 for his contribution to social service.
He was the president of Bangladesh Bouddha Kristi Prachar Sangha for a long time.
Prime Minister Sheikh Hasina expressed deep shock and sorrow at the death.
In a condolence message, she said he was a messenger of peace and humanity, who dedicated himself to social services.
The prime minister prayed for salvation of the departed soul and conveyed profound sympathy to the bereaved family members, well-wishers and followers of Shuddhananda Mahathero.
Jatiya Sangsad Speaker Shirin Sharmin Chaudhury also expressed shock at the demise.