Stronger together
100 families in Aftabnagar start community farming, kitchen to see out tough times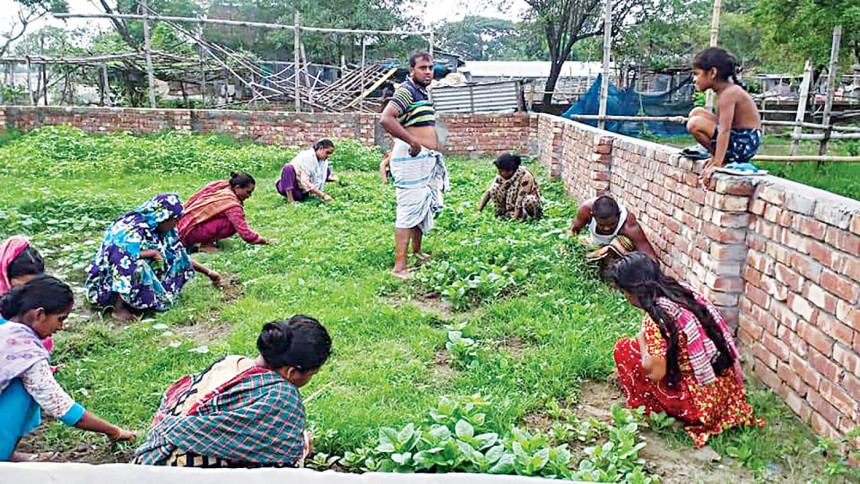 Sacked from their jobs or facing loss in their small businesses, the families now collect, cook, and share meals together.
On top of that, as money became scarce and kitchen supplies got pricier, the families started cultivating vegetables in empty housing plots in the Aftabnagar area, which is working wonders in loading up their grocery basket.
What's more, the food is not distributed based on how much effort one family puts in, but is shared equally among the 320 members of the hundred families.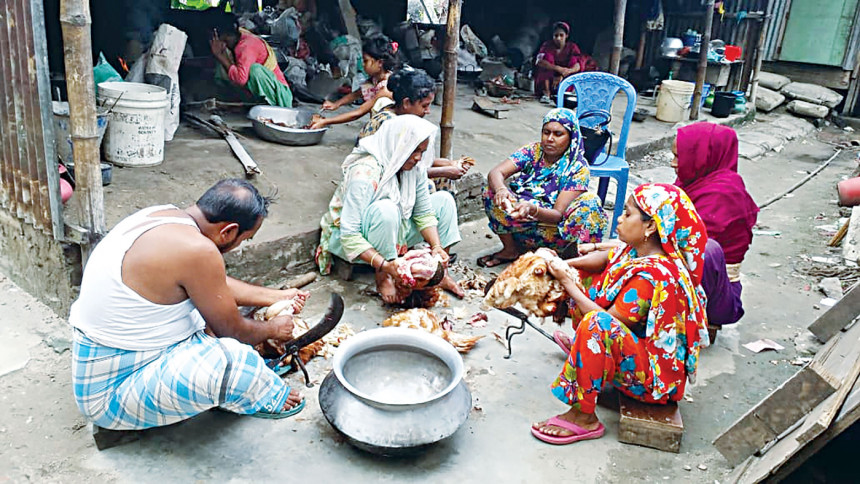 The arrangement was started around two and a half months ago. As mid-March hit, most earners of these families started losing their job as construction workers, rickshaw-pullers, day-wage workers, and household staff.
This deeply concerned Israt Shiuly, an activist of cultural platform Samageet, who is behind this initiative. Out of worry, she chalked up a plan to put everything together. After a couple of days planning, Samageet and Shiuly started taking the idea to the families in the area.
Members of the families along with Samageet members started the project by building a temporary kitchen in the area, called "Samageet Joint Kitchen".
They contacted owners of the empty housing plots in the area with the proposal to grow vegetables. Many agreed.
As the plan started taking shape, other parties stepped up in solidarity -- both organisations and individuals. They helped with food donations at various times of need.
Being out of work is not a pleasant experience. It's not just because of the economics, but also because people like to be active. After the kitchen was set-up, those who were laid-off and were tired of the inactivity, jumped right in, as everybody started helping out to maintain the kitchen, source supplies, and cook together.
Urban workers who usually work in environments made up of cement, concrete and ceramic, have now almost become full-fledged peasants. With their trusty garden tools, they cultivate the borrowed land to their heart's content.
The list of vegetables they grow include red spinach, jute spinach, pumpkin, eggplant, chili and more. Freshly sown and freshly plucked, the herbs contribute a lot to the kitchen's stocks.
"The idea came out of socialist sentiments," Shiuly said. According to her, communities are much more necessary for survival than staying individualistic. Sure, some will win the race and get all the spoils, but for the many, coexistence is the way to go, especially during times of trouble, she said.
Things at Aftabnagar's joint kitchen gained a festive air during the month of Ramadan. Everyone ate sehri and iftar together, and shared whatever donations they received with each other. Eid was also special as they were all together, Shiuly told this correspondent.