Rickshaws responsible for 40pc of Dhaka's commutes
Introduce adequate alternatives before banning them from roads: BIP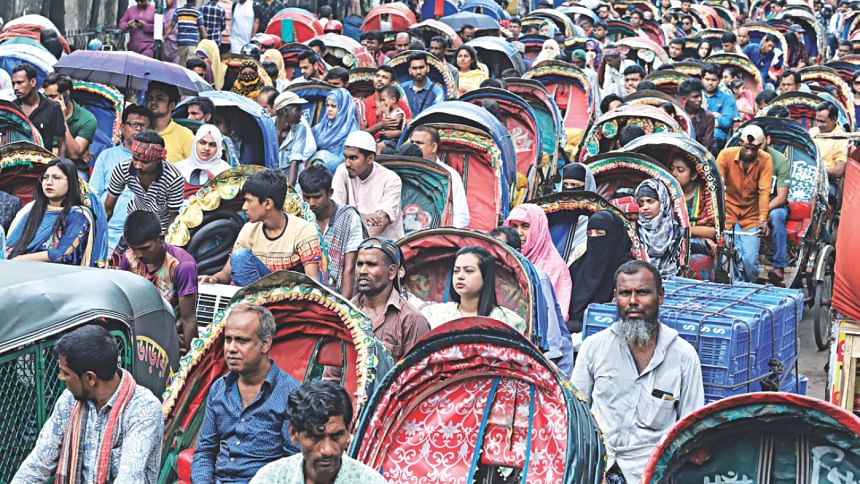 Urban planners yesterday said authorities should introduce adequate alternatives to rickshaw as a mode of public transport before banning it from city thoroughfares.
Separation of non-motorised means of transport, such as rickshaw, from the city's overall transport plan cannot be done overnight because of their utility, they said at a press conference at Bangladesh Institute of Planners (BIP) in the capital.
BIP arranged the press conference on "what should be done on plying of rickshaw and non-motorised vehicle in Dhaka city from an urban planning perspective", following the recent ban on rickshaws on three major roads by Dhaka South City Corporation.
Stressing the need for "integrated communication system" based on multi-mode transport, BIP General Secretary Adil Muhammad Khan said concerned authorities should formally recognise rickshaw's contribution and make its role specific in urban transport system, considering the road capacity.
"Although making roads off limits to rickshaws can be a temporary remedy, traffic congestion will not ease up if restriction is not imposed on private cars," he said, presenting a paper.
Officially, 79,547 rickshaws are on Dhaka streets at present. However, the unofficial number could be 8-10 lakh, he said, adding that rickshaws were last brought under formal registration procedure in 1986 by the then Dhaka City Corporation.
Rickshaws are responsible for some 40 percent of Dhaka's total commutes each day, he said, referring to data of the city's Strategic Transport Plan.
He recommended providing licenses to required number of rickshaws and gradual withdrawal of unlicensed rickshaws from city streets.
Until alternative mode of transport are introduced, concerned authorities should create dedicated lanes for slow-moving vehicles like rickshaw to mitigate traffic congestion, said BIP President AKM Abul Kalam.
Musleh Uddin Hasan, an associate professor of Department of Urban and Regional Planning at Buet, said some roads have been made off-limits to rickshaws. However, private cars are allowed on those roads. 
He called upon concerned authorities to ensure "social justice" while taking such decisions.
Instead of taking random decisions like making roads off-limits to rickshaws, steps should be taken based on long-term action plans, said BIP Vice President Prof Akter Mahmud.