'Relocating dogs illegal, shameful'
Animal rights groups protest DSCC move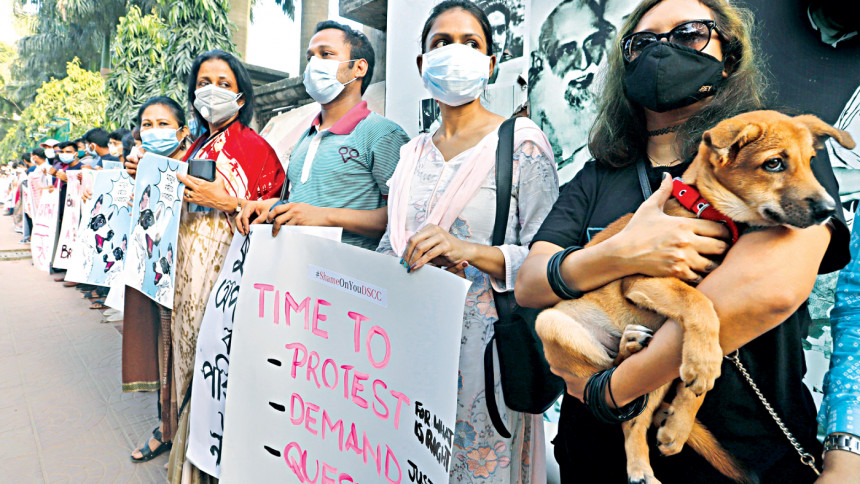 A large group of animal lovers yesterday held a human chain in front of the Nagar Bhaban at Dhaka South City Corporation (DSCC), protesting authorities' decision to move stray dogs to the Matuail landfill.
After reports that DSCC relocated 15 dogs in the last week, six organisations -- Care for Paws, Obhoyaranno, Stella, PAW Foundation, We Are Nature, and Ekbelar Khabar Boba Pranider Jonno -- organised the rally in front of the DSCC headquarters. They demanded vaccination and sterilisation instead of relocating dogs.
Obhoyaronno founder Rubaiya Ahmad said, "DNCC [Dhaka North City Corporation] has more dogs than DSCC. But while DNCC opts to co-operate with us in vaccinating them, DSCC does not."
Terming DSCC's relocating dogs to Matuail shameful, she said, "If they moved the dogs, they should stop doing it, and opt for vaccination and sterilisation. We are asking DSCC to abide by the law."
PAW Foundation chairman Rakibul Haq Emil said, "The dogs were removed from their habitats to Matuail landfill. This is an act of forced migration. This goes against the existing Animal Welfare Act-2019, which prohibits killing stray dogs or removing them from their habitats."
"The government has vaccination programme  for the dogs, and already 70 percent of the dogs in Dhaka have been vaccinated. So there is no need for culling or removal of the dogs," he reasoned.
People from different walks of life joined the protest, with placards saying: "Eliminate rabies not dogs", "Shame on DSCC" and "Dhaka dogs belong to Dhaka".
Sayeda Gaffar, a retired professor of Dhaka University, said, "Killing dogs will not bring any solution; rather it will beget problems such as ecological imbalance."
DU student Fahmida Akhi said, "When there is option to vaccine and sterilise, killing or removing them is not pragmatic."  
DSCC 'UNAWARE' OF LAW
Contacted, SM Shafiqul Islam, veterinary officer of DSCC, admitted that they had moved 15 dogs to the landfill. "Locals were telling the city corporation to relocate dogs. Therefore, we temporarily sent few dogs off to the Matuail landfill, but it didn't work. They all came back," he said.
"There has been no official decision to relocate dogs to Matuail permanently. It is just under discussion. We are not going to cull any dog," he added.
Asked about Animal Welfare Act that forbids dog culling and relocation, he said, "I'm only aware that dog culling is not allowed; we are not culling any dog."
Asked if they have any plans for stray dogs in future, he said, "Right now we are not sure what we are going to do with them. We need to work on it."
LEGAL, SCIENTIFIC ASPECTS
Contacted, Supreme Court lawyer Barrister Shihab Uddin Khan told The Daily Star, "The Animal Welfare Act prohibits anyone from killing or moving any stray animal from its habitat. If a government body does it, then any aggrieved organisation and person can avail their constitutional right to file a writ petition with the High Court."
"If the city authorities want to take any such decision, I think they should sit with all stakeholders, and find a way that is acceptable to all and legally compliant to address the issue," he suggested.
Dr Firoj Jaman, a professor of zoology at Dhaka University, suggested that any decision be made based on scientific evidence. Talking to The Daily Star, he said, "Street dogs are scavengers. They add benefits to the ecology, but they can also cause problems. If their population needs to be managed, I think it should be done based on surveys and scientific data."