Raudha died by suicide: PBI
Fifth probe into Maldivian student's death confirms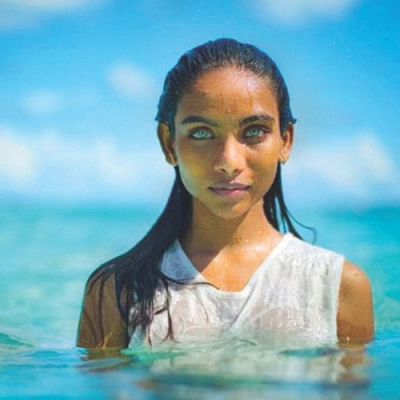 Maldivian model and medical student Raudha Athif died by suicide, confirmed Police Bureau of Investigation (PBI), after concluding the fifth probe into her death.
"We have sent a final report of our findings to our headquarters. When approved, we will submit it to the court," Abul Kalam Azad, additional superintendent of police of Rajshahi PBI, told The Daily Star this week.
Following a court order, PBI started the investigation on December 23, 2017.
Raudha, 20, who was featured as a Maldivian model in a Vogue magazine cover in 2016, and was a second year student at Islami Bank Medical College in Rajshahi. On March 29, 2017, she was found dead at her college dormitory room.
Today is her second death anniversary. She was buried at a graveyard in Rajshahi town.
Since then, Sub-inspector Ataur Rahman of Shah Makhdum Police Station and Inspector Rashidul Hasan of Detective Branch have investigated her death and gave final reports confirming it as suicide.
On April 10 the same year, when Raudha's father Mohammad Athif filed a murder case, accusing her classmate, Inspector Anwar Ali of Shah Makhdum police investigated the case and gave a final report.
All three reports confirmed she died by suicide but did not mention any reason behind it. A Maldivian police team visited Rajshahi for five days until April 7 and ruled out any possibility of murder.
But Athif, a doctor, rejected the police findings. He argued he saw finger marks on his daughter's neck, claiming somebody had strangulated her to death.
Criminal Investigation Department then exhumed her body for a second autopsy. On October 17, CID Inspector Asmaul Haque submitted its report terming the murder case a "mistake of facts" and confirming her suicide.
The CID report said Raudha took her life by hanging herself as she could not endure breakup with her Maldivian boyfriend, who was studying in London.
On November 28, when Raudha's father submitted his no-confidence to CID's final report, a metropolitan magistrate court asked PBI to investigate the matter.
PBI Sub-inspector Saidur Rahman, who investigated the case, told The Daily Star yesterday that they examined the crime scene, consulted forensic doctors, digital forensic experts and interviewed witnesses.
"Allegation of fingerprints around her neck was false. Those marks appeared on some photographs that were edited," he said, adding that they found the accused classmate innocent.
"Forensic doctors found only ligature marks on her neck," he said. "We found a suicide note in her phone that she had sent to her boyfriend prior to hanging herself," Rahman said.
Her then boyfriend, relative of an influential Maldivian politician, cheated on her, which left her devastated, and she eventually took her own life, added the PBI official.