Pallas's Fish Eagle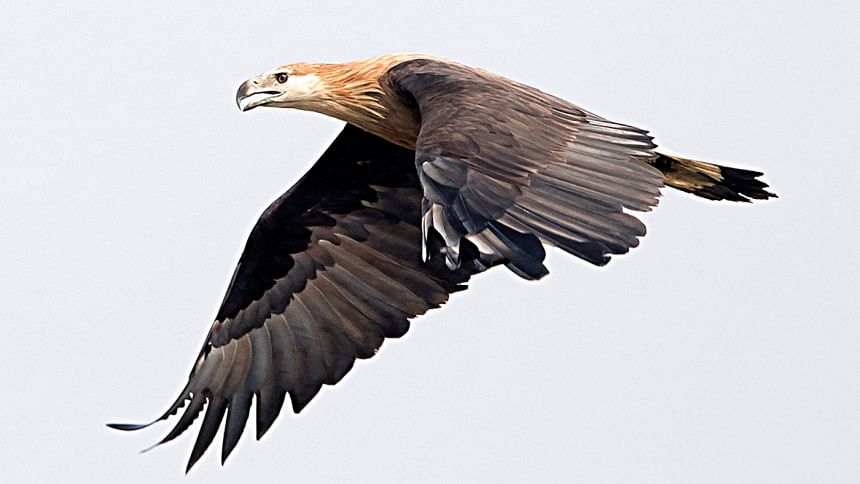 One day, I was looking for birds in Hail Haor, a low-lying wetland near Moulvi Bazar where monsoon rain accumulates in large saucer-shaped depressions creating beels and fishponds. Leaving my normal route I diverted into a gravel road westward from the main road running through the Haor. Soon I came upon a series of remote fishponds. My microbus complained about the terrain but I kept going. At the far edge of one such pond, I saw a large brown creature sitting on the bank. Approaching closer, I saw that it was a Pallas's Fish Eagle.
The first thing you notice about this eagle is its size. It is our largest eagle, and one of the largest eagles anywhere, almost double the size of the familiar Shonkho Cheel, Brahminy Kite. A winter migrant, it arrives here in September and breeds through the winter months. Come April and May, it disappears into the north to the high plains of Central Asia and the Himalayas.
From the top, its body grows progressively darker: a white head, beige neck, and a body that is dark brown from above and a lighter brown from below. Its huge beak is curved and sharp. When in flight, you can see a wide white band arcing across its fanned out tail. Juveniles are brown overall and lack this band. An adult bird's wingspan can reach an extraordinary two meters. Pallas's Fish Eagles belong to a group of large eagles – the same genus as Bald Eagles and Steller's Sea Eagles.
As expected, Pallas's Fish Eagles eat mostly fish. They also take birds small and large, from Little Grebes to Bar-headed Geese. If food is scarce they will eat frogs, snakes, lizards and even eat off carrion.
Once I had an unnerving experience with one of them. Alone in the middle of the Haor at mid-day, I spotted a Pallas's Fish Eagle perched on a pole in the centre of a fishpond. It was looking for fish with great concentration. I took some pictures. My shutter clicked loudly, shattering the Haor's silence and disturbing the bird. On such occasions, birds of prey, being shy, fly away quickly. Not this one! Annoyed by the interruption it flew over and made several circles over my head, progressively descending closer. Only when it was uncomfortably close did it decide to fly away.
In addition to Hail Haor, I have seen Pallas's Fish Eagles in Tanguar Haor, where, in the village of Golabari, there is a nest where they return every year. It is a big and messy affair on top of a tall tree, assembled roughly from large twigs and branches. Other places they can be seen include the northern edges of Sundarban.
Outside Bangladesh, the bird is also seen in India and countries of Central Asia. With a global population of less than 2,500 it is listed Endangered in the IUCN Red List.
Pallas's Fish Eagle is a fairly localized bird and not so easy to find. Your best bet would be to spend good amounts of time in the Haors in winter. Keep your eyes on the sky and scan trees that line the fishponds. You will increase your chances by steering away from the beaten path.
facebook.com/ikabirphotographs or follow "ihtishamkabir" on Instagram.