'No pressure to reopen educational institutes'
Says Dipu Moni; students continue demands of resumption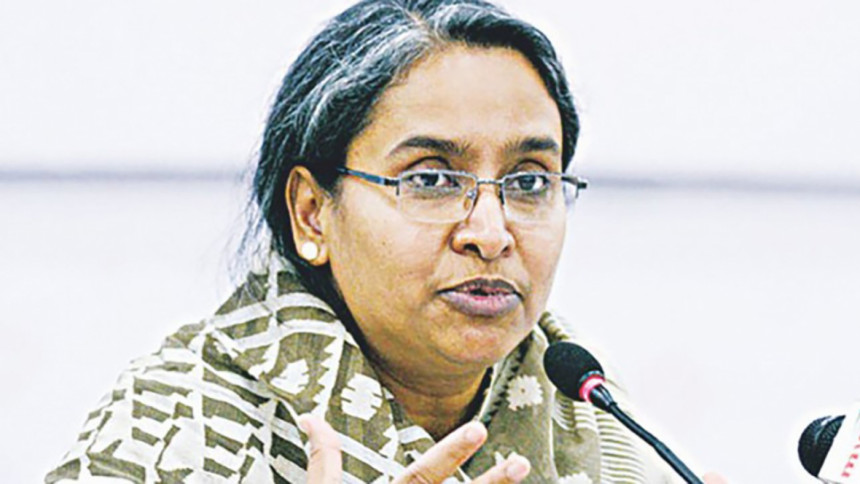 Education Minister Dipu Moni yesterday said there is no pressure from larger portion of students and guardians to re-open educational institutions.
She came up with the remark at a time when the demand for re-opening is getting louder.
There are some pressures from different quarters in this regard but not from the majority of students and guardians, said the minister while addressing a meeting commemorating the death of former law minister Abdul Matin Khasru at Jatiya Press Club.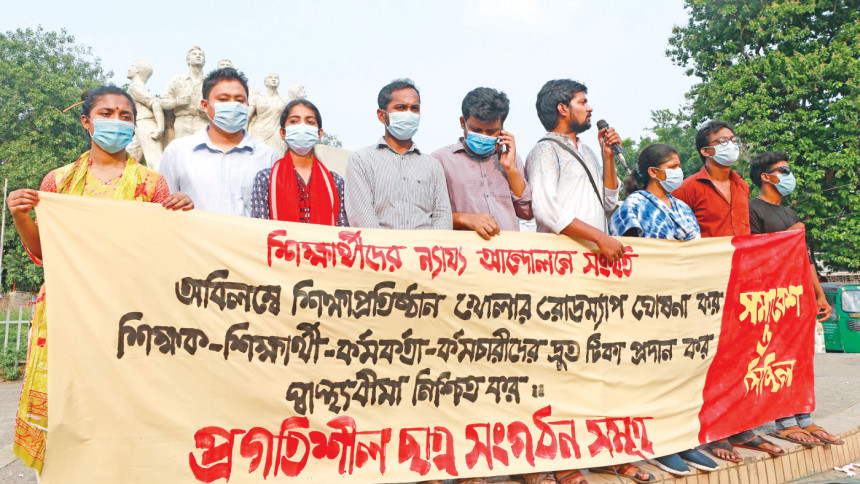 "I get messages regularly over the issue. Most of the messages request not to open educational institutions right now. We have information that movements are going on at different places. But we cannot pose health risks on people. Campuses will be re-opened only when Covid-19 situation will be brought under control," she said.
Meanwhile, some progressive student bodies and Bangladesh Jatiyatabadi Chhatra Dal yesterday demanded immediate re-opening of educational institutions, maintaining proper health guidelines.
The student bodies announced the demand at a rally at the base of Raju Sculpture at Dhaka University in the afternoon.
They also demanded that the government declare a roadmap to reduce session jam and students' drop-out rate, which might be created due to the closure.
Their other demand was to ensure vaccination for all students.
Bangladesh Chhatra Federation general secretary Zahid Sujon announced the demands on behalf of nine student bodies.
Earlier in the morning, Bangladesh Jatiyatabadi Chhatra Dal, a pro-BNP student body, came up with the same demand at a rally at the base of Raju Sculpture.
"Students' academic lives are being severely hampered as educational institutions and campuses across the country have remained closed for over a year. Although the government offers online classes, there was no effective plan to implement it," said JCD president Fazlur Rahman Khokon.
So, educational institutions should be reopened immediately to bring students back to their regular life, said Khokon.
JCD's DU unit convener Rakibul Islam Rakib also spoke at the rally.
Meanwhile, Dhaka University Teachers' Association (DUTA) is planning to recommend the university vice-chancellor to initiate measures to take exams, ensuring students' physical presence.
"We will place the proposal shortly," said DUTA president Prof Rahmat Ullah.
Meanwhile, a section of teachers and students of DU will hold a rally today at the campus demanding immediate reopening of universities and student dormitories.
Yesterday, students of Jagannath University also formed a human chain on the campus over the same demand.
Educational activities of around four crore students have been affected by the Covid-induced closure since March 17 last year.
It led to cancellation of exams and left the academic calendars in disarray.
School students were promoted to the next grade this year without any examinations.
The government has been broadcasting educational programmes on state-run TV channels for primary and secondary school students. Many schools, colleges and universities have been offering online classes. But many students, especially those in rural areas, were left out due to lack of access to digital devices.