No more cobweb of cables!
Sylhet becomes first city in country to have street with no overhead wires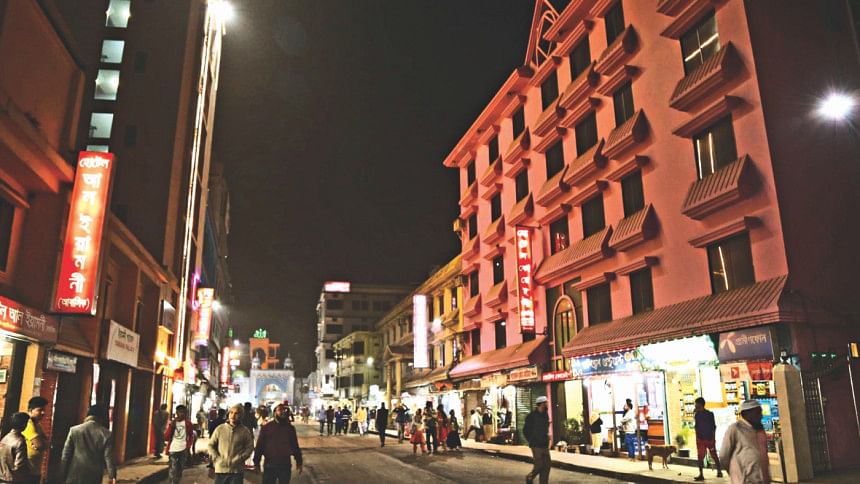 Sylhet is the first city in the country to have a road with no overhead cable.
Bangladesh Power Development Board (BPDB) successfully initiated underground power lines in the Dargah Gate area and removed all overhead cables and electric poles last Sunday.
Seven-kilometre area of the city is about to go overhead cable free by February under a pilot project, costing Tk 55 crore.
BPDB is now working on a mega project worth Tk 1,900 crore for sustainable distribution of electricity in Sylhet division, and underground power line project is a part of that.
Under this pilot project, 25 circuit kilometres of 11KV line, 18 circuit kilometres of 0.4KV line and 2 circuit kilometres of 33KV line are being installed in underground tunnels, which will cover 7km of road.
Covered areas under the project are from Electric Supply Substation to Chowhatta via Amberkhana, Chowhatta to Sylhet Circuit House via Zindabazar and Court Point and Chowhatta to Sylhet MAG Osmani Medical College via Rikabibazar.
Moreover, several stations are also being constructed over the underground trenches for maintenance.
KM Nazim Uddin, project director of BPDB, said, "The work was supposed to be finished by March last year but it was extended for another year and will be finished by February."
Sylhet citizens are to be first in the country to experience no overhead cables, he added.
While visiting Dargah Gate area on Tuesday night, this correspondent saw hundreds of people gathered to see the road with no overhead cables.
Sylhet City Mayor Ariful Haque Choudhury said, "Sylhet is on its way to become first smart city of the country and this project will provide the very first exposure to that. All overhead cables in the city will eventually go underground."