No end to Sylhet city's flash flooding problem
Experts say loss of water retention, vegetation areas key reasons behind such incidents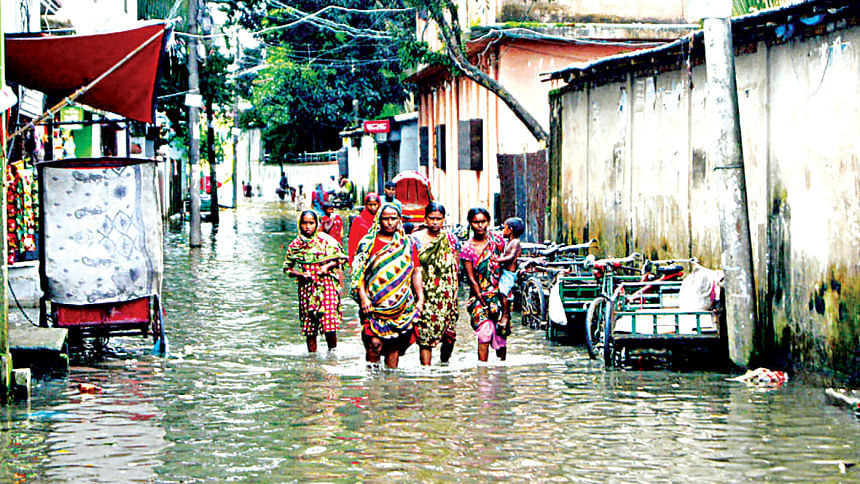 Sylhet city, situated on the bank of Surma river, has been facing severe instances of waterlogging and flash floods for a long time, although such incidents in the hilly region were alien even some two decades ago.
Authorities keep pointing to the river's swelling as the reason, while citizens blame the city corporation for unplanned drainage systems and Bangladesh Water Development Board (BWDB) for not keeping the river navigable.
Experts, however, say the issue is multifaceted, and resolving these problems is only part of the solution.
Prof Zarina Hossain -- president of Institute of Architects Bangladesh (IAB), Sylhet chapter -- said, "The situation the city is facing is not just common waterlogging but something called urban flash flood or urban storm flood."
During this rainy season, around 50 areas of the city experienced flash floods on July 1 and 12, which continued till Tuesday.
To improve the situation, Sylhet City Corporation (SCC) spent more than Tk 300 crore since 2013; it even got special allocation.
Tk 1,228 crore was allocated last December by the executive committee of National Economic Council (Ecnec) for the project "Eradication of Waterlogging, Freshwater Supply and Infrastructure Construction".
Another nationwide project for restoring navigability of 53 riverways is being implemented by Bangladesh Inland Water Transport Authority (BIWTA), which includes the whole of Surma.
Meanwhile, BWDB dredged only 600 metres of Surma beside the city's Kanishal area, at an expenditure of Tk 9.27 crore last year.
But despite all the development projects, citizens continue to suffer.
Jafor Siddik Chowdhury, a resident of the city's Lamapara area, said, "We see the city corporation working on projects to eradicate waterlogging, but we face the same situation every rainy season."
Abdul Karim Kim -- general secretary of Bangladesh Paribesh Andolon (Bapa), Sylhet chapter -- said, "Authorities must admit their faults in managing waterways. What's the point of spending that much money for this issue if citizens don't see any benefit?"
"Surma lost its navigability and needs dredging. Otherwise, the city will keep being flooded every year," said Kim, also Surma's waterkeeper.
Prof Zarina said other factors must also be taken care of, if authorities want to stop these annual flash floods. "Water retention areas like ponds, haor and swamplands are integral in managing massive rainfall the region experiences. But unfortunately, the city and its surroundings lost many of such areas over the decades."
"We must protect water retention and vegetation areas, and take measures centring over-siltation of the river. We need a long-term plan that would consider these issues while developing the city and surroundings," said the architect, who is also an urban planner.
Md Shahiduzzaman Sarkar, executive engineer of BWDB in Sylhet, said after a couple of hours of rain, Surma starts overflowing beside the city. Consequently, many areas become inundated and the canal water does not go down.
"Surma needs to be dredged to regain its navigability. As BIWTA is working on a massive project centring this issue, we cannot make immediate plans to dredge part of the river beside the city," he said.
SCC Chief Executive Officer Bidhayak Roy Chowdhury said, "When Surma overflows, we really have nothing to do. The river needs to be dredged properly soon."
When asked about protecting water retention and vegetation areas, he said, "We are protecting all water retention areas inside the city limit, but most of such lands are outside the perimeter."
The city corporation covers only 26.5 square kilometres. A proposal to include another 160.62 square kilometres of surroundings had been placed and is awaiting approval from local government and rural development ministry, he further said.
Notable, the proposal was placed in 2014.
"Once approved, we will protect all water retaining areas in accordance to a comprehensive plan," he added.
It seems all hope is now placed on the mega projects, but sadly, citizens must keep suffering, as these are nowhere near completion.
Contacted, BIWTA authorities said while they have made considerable progress, dredging part of the river beside the city will take substantial time to commence.
As for the Ecnec mega project, authorities concerned are yet to go fully operational with it, since they recently received allocation, informed CEO Bidhayak.