Language hero Rowshon Ara Bachchu passes away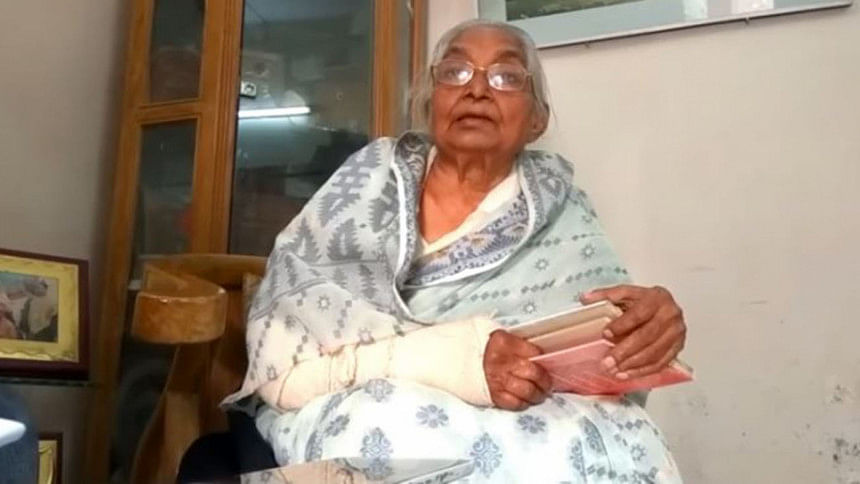 Language movement hero Rowshon Ara Bachchu died at a hospital in Dhaka this morning. She was 87.
Rowshon, who was undergoing treatment at Apollo Hospital, was declared dead around 11:00 am, Md Ashraful, duty manager of the hospital, told The Daily Star.  
She had been suffering from her old-age complications for several days, Tahmida Khatun, daughter of Rowshon Ara Bachchu, told Bangla daily Prothom Alo.  Language veteran Rowshon was born in Kulaura upazila of Sylhet on December 17, 1932.
The Daily Star talked to Rowshon Ara Bachchu last year. Here is her interview:  
Rowshon joined Gonotantrik Pragotishil Chhatra Front (Democratic Progressive Student Front) in 1950 to protest the stifling education policy of the then Pakistan government and hike in student fees in Dhaka University.
She was elected as a member in both the Women Students Residence Hall and Salimullah Muslim Hall elections. She strongly argued in favour of women's participation in politics in a radio programme in April 1950.
Rowshon took part in the meeting held in Amtola, Dhaka University on 30 January 1952 to protest Khaja Najimuddin's declaration to make Urdu the sole language of Pakistan on 27 January.
After the Pakistan government's declaration on 20 February 1952 to hold any sort of strike, meeting or procession on the coming February 21 to be forbidden, the Dhaka University students assembled under Amtola of the DU Campus and decided to break Section 144 and defy the curfew.
Rowshon took part in the first group to break the police cordon and she was injured in the process.