Mayhem in Sunamganj: Jhumon Das, sued under DSA, still in jail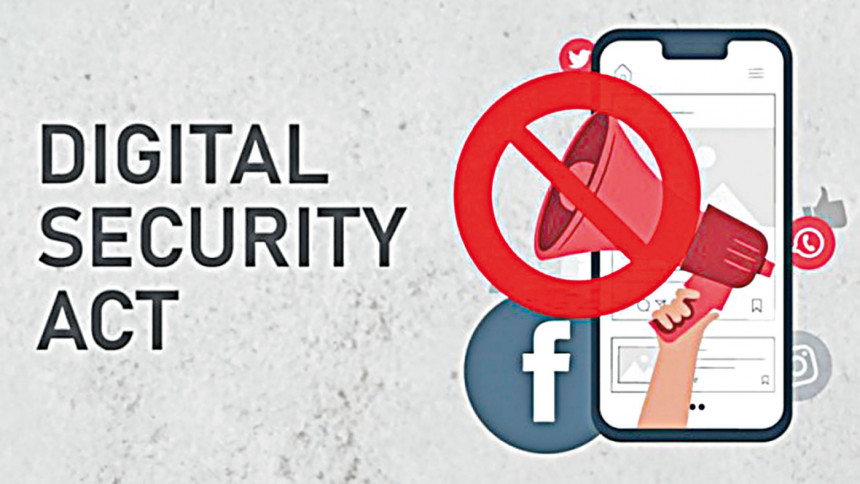 Jhumon Das Apon, accused in a Digital Security Act (DSA) case filed over criticising Hefajat-e-Islam leader Mamunul Haque on Facebook, has been in jail for over two months.
Sunamganj District Judge Court, after hearing a bail prayer filed by Jhumon's lawyer yesterday, did not give any order and postponed proceedings for two months.
The Facebook post allegedly led to the mayhem in Noagaon village of Sunamganj's Shalla upazila on March 17, which saw about 90 Hindu houses vandalised and looted.
No lawyer was initially willing to defend Jhumon in the case for security reasons, and that is why filing of a bail prayer was delayed, said his family.
Lawyer Debangshu Sekhar Das, who later agreed to defend Jhumon, said securing bail in a case filed under DSA is tough for an accused.
After the hearing, the lawyer is planning to file an application on Sunday to know whether they will get an order. "The court postponed proceedings without giving an order. If we get an order, we can make appeals," he said.
Police, with help of locals, detained Jhumon on March 16 to pacify agitated Hefajat supporters and avoid a possible attack on the village, but in vain. They showed Jhumon (25) arrested under section 54 of Criminal Procedure Code (CrPC) and produced him before a Sunamganj court on March 17. The court later sent him to jail.
On March 22, police filed the case against the youth and 20-30 unnamed persons under DSA. In the case statement, they attached Jhumon's Facebook post and mentioned that he intentionally spread information that are aggressive, intimidating, false and disgraceful in nature, and responsible for degrading law enforcement.
They also mentioned that Jhumon in his Facebook post attached a defamatory photo of Mamunul Haque and three posts targeting the Hefajat leader.
A Sunamganj court on April 20 placed Jhumon on two-day remand in the DSA case. Police remanded him into custody and sent him back to jail.
Speaking to The Daily Star on Monday, Jhumon's mother Nibha Rani Das said, "I could see my son only once, after he was sent to jail. As a mother, I want my son to be freed, but I'm worried about his safety. I also demand justice for him through a fair probe into the incident."
Advocate Bishwajit Chakraborty, general secretary of Bangladesh Hindu-Buddhist-Christian Unity Council, Sunamganj unit, said, "Jhumon's Facebook post is not aggressive nor did it hurt any religious sentiment. It criticised a Hefajat leader's intention and sought the prime minister's intervention to take necessary steps against those radical people."
"Now, as we are seeing what's happening around Hefajat and Mamunul Haque, Jhumon should not be blamed for his Facebook post, and yet, he's in jail," he said, demanding his bail and safety.
He also urged revelation of the truth behind the gruesome attack on Noagaon through a fair probe.
After the attack, two cases were filed with Shalla Police Station -- one by a local on behalf of villagers and another by police.
Nibha Rani on March 25 tried to lodge a case with the police station over the attack on their house, looting valuables and injuring her daughter-in-law, but police did not record the case, said lawyer Debangshu Sekhar Das.
She then filed the case at Sunamganj Judicial Magistrate's Court on April 1, accusing 72 named and around 2,000 unnamed people. Magistrate Shyam Kanti Singha ordered the Detective Branch of police to probe the case, the lawyer added.
However, police are yet to submit any report to the court.
Md Mizanur Rahman, superintendent of police in Sunamganj, said 48 accused were arrested till Tuesday in two cases filed over the Shalla mayhem. As the cases are sensitive, and a large number of people are accused in those, the probes are taking a longer time, he told this newspaper.
"We are intentionally delaying the submission of the primary investigation report in the case filed by his [Jhumon's] mother, as it is linked with the two other cases. We will be submitting all the investigation reports after conducting fair probes," the SP added.
He said, "We are also probing the case filed against Jhumon, and we will submit the final report soon."