High risk, higher uncertainty
Pandemic takes toll on ambulance drivers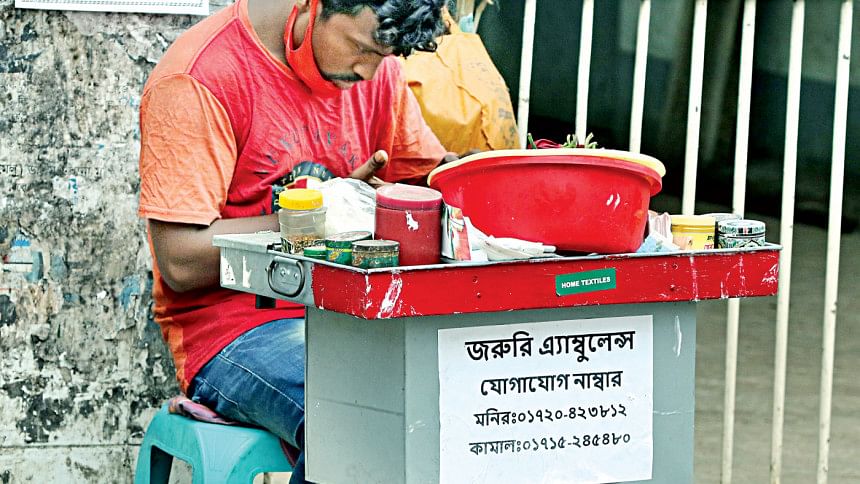 Mostafa Kamal (45) has been working as an ambulance driver for nearly 10 years. In the past, he took two to three calls per day, which would be enough to meet his family's needs.
But as soon as the coronavirus hit the country, his circumstances changed unimaginably. For one, his job suddenly became hazardous, as he risked contracting the virus every time he picked up a patient and transported them to a hospital. But of course, he had to continue, because he had no alternative to feed his family.
Secondly, as the number of calls from regular patients -- such as patients with heart-related illnesses -- declined, ambulances drivers experienced a sharp decrease in their incomes.
But the worst was yet to come. One day, after he got home from work, Kamal was told by his landlord that he needs to look for a new place. The owner of the house feared he might be carrying the Covid-19 virus.
"It was a big shock for me. I have never faced such a dire situation in my life," Kamal told this correspondent. "I tried to reason, but the owner didn't want to listen. At a time when it's hard to make ends meet, shifting would be a big financial burden," he added.
Out of luck, Kamal started looking for places, but finding rent within one's budget isn't easy in Dhaka.
"Then I decided to test myself. Fortunately for me and my family, the result came out negative. I showed the result to the house owner and he finally agreed to let us stay," he said. However, this has not stopped the landlord from nagging Kamal every now and then.
Kamal's is one of many such stories on the misery of ambulance drivers during the pandemic.
Md Monir (45), a former colleague of Kamal's at Anjuman Mufidul Islam, a welfare organisation, spoke of a different woe for ambulance drivers -- the pandemic comes with a stress on their mental health. "Wherever we go, people avoid us, as if we have Covid-19," Monir said.
"Even patients don't want to use ambulances out of coronavirus fear," Monir exclaimed.
Sharing one experience, he said, "Two months back we were carrying a Covid-positive patient's body from Dhaka to Narsingdi. Shockingly, we had to turn our ambulance midway as villagers and the area's chairman received information and refused to let us in."
"We had to bury the body in Dhaka's Mohammadpur," Monir said.
Other drivers shared a host of stories with this correspondent. From staying out of home for two months to spending nights inside ambulances, the community has seen it all during these trying times.
But for all their woes, ambulance drivers have no source of regular income as they work as freelancers and have no affiliation with any government or private hospitals.
They do have an association to look out for their interests. Still in its growing phase, Bangladesh Ambulance Malik Kallyan Samity has 450 ambulances affiliated with it. Most of the ambulance owners are the drivers themselves.
The society has activities at different districts, including Narsingdi, Magura and Faridpur. It was registered in 2018.
"This is a hazardous time for ambulance service providers. We have heard of at least 15 drivers who got infected with coronavirus on the job," said Golam Mostafa, elected president of the samity.
"This was inevitable as we don't have enough safety gears. We have pulled our funds and provided 500 PPE to member ambulances, but this is nowhere near enough. We need more support from the government," he urged.
"Drivers used to get 2-3 calls per day, which has now come down drastically. Sometimes, they have to wait 3-4 days for one call," he said.
"We also urge the government to arrange proper medical training for ambulance drivers and assistants, which would not only benefit our operations, but also help emergency patients," said Mostafa.