A helping hand to ease worries
DU pharmacy department making hand sanitiser for students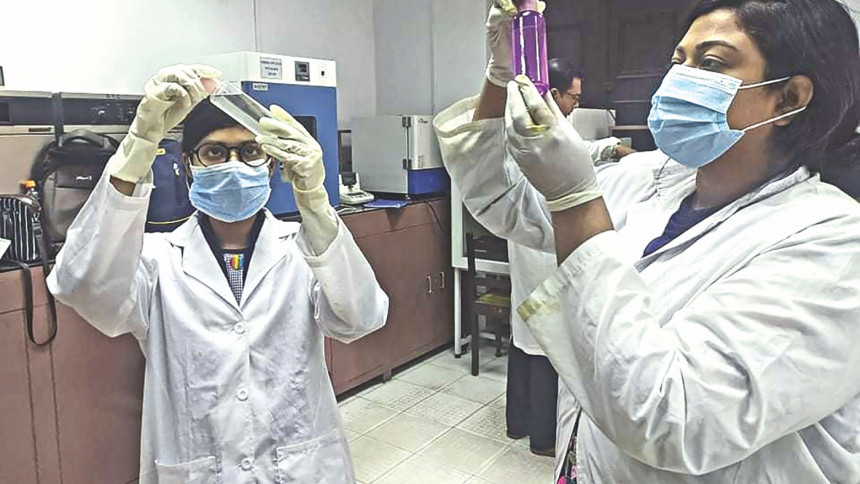 The pharmacy department of Dhaka University (DU) has come forward to minimise fears centring novel coronavirus, which has gripped the university's students. 
When students, especially those living in "gono rooms" of DU's 18 dormitories, have been expressing their concerns over the disease, students and teachers of the department have come together to start making hand sanitiser following an ongoing shortage of the product at stores due to coronavirus panic.
Bottles of sanitiser will soon be provided to the university's students for free. About 200 bottles have been made in the last two days, DU sources told The Daily Star. They are planning to make 500 more bottles at their lab.
"Our department decided to produce hand sanitiser with its own funding. Teachers and students have been working under the leadership of Associate Prof Abdul Muhit," Prof Sitesh Chandra Bachar, chairperson of the department, told The Daily Star.
"We have financial constraints; if more hand sanitiser is needed, we will agree to make more, and financial support will be taken from the university if necessary," he added.
Prof Muhit said he, along with department students, is now working by following the advise of Prof ABM Faruk, former director of DU's Biomedical Research Center, and Dr SM Abdur Rahman, dean of pharmacy faculty. 
"In the first phase, we want to distribute the bottles to pharmacy teachers and students, and a few students from other departments too, as we have certain limitations," he added.
The move comes in the wake of a worldwide streak of panic buying over coronavirus fears. People are buying hand sanitiser, masks, toilet paper and liquid soap in bulk.
Apart from welcoming the initiative, several students demanded that authorities should suspend all academic activities and keep the university shut to prevent spread of Covid-19.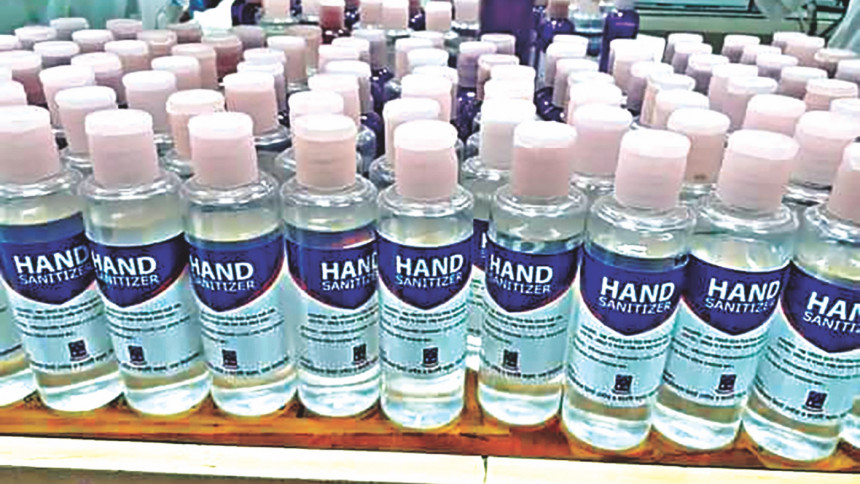 "No doubt, hand sanitiser could prevent a massive outbreak, but there are many countries whose people are struggling to tackle this virus with these measures only," said Redwan Rony, a final-year student and resident of DU's Kabi Jasimuddin Hall. "I think the university should suspend classes and examinations temporarily."
Students said they are afraid of spreading coronavirus throughout DU halls, as four-bed gono rooms have 25-30 students living together.
Talking to The Daily Star, DU Vice Chancellor Dr Md Akhtaruzzaman appreciated the effort and said a few teachers met him two days back and briefed him on the initiative.
He said the university administration will take necessary measures to prioritise health of students.
DU authorities said they have already taken some preventative measures, including additional treatment facilities at DU medical centres, encouraging foreign residential students to go into self-quarantine if they recently returned to Bangladesh from abroad, and hanging cautionary posters in dormitories, according to a recent DU press release.