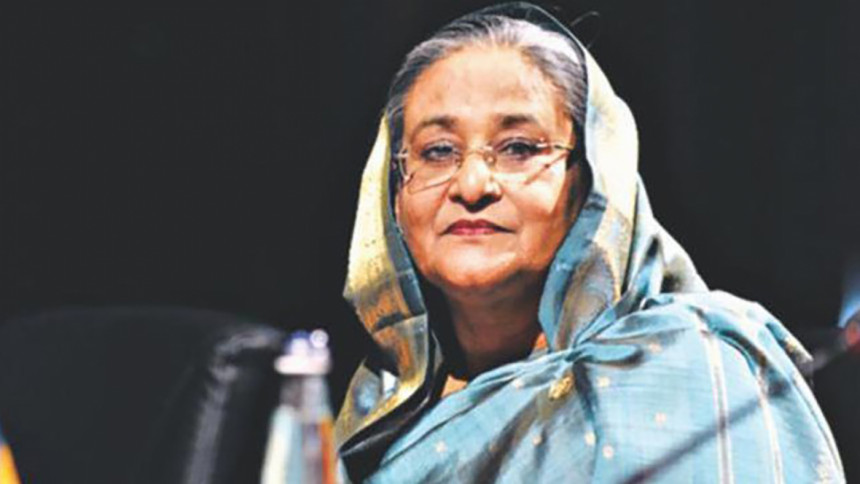 Today is Prime Minister and Awami League President Sheikh Hasina's birthday.
The eldest of five children of Bangabandhu Sheikh Mujibur Rahman and Begum Fazilatunnesa was born on this day in 1947 at Tungipara of Gopalganj.
Like previous years, Awami League and its affiliated organisations will be celebrating the day by organising various events. On the occasion, milad and doa mahfils will be held across the country.
Special prayers will be offered at different places of worship seeking good health and long life of the premier, who is now in the United States on an eight-day official visit to attend the 74th session of the United Nations General Assembly (UNGA).
Hasina spent much of her childhood in the village where she was born. In 1954, when Bangabandhu was elected legislator, the family relocated to Dhaka.
In her student life, she actively took part in the six-point movement of 1966 and the student movement of 1969, which saw the abdication of General Ayub Khan.
In 1968, she married nuclear scientist Dr Wazed Miah.
During the Liberation War, Hasina and her family were interned at a house in Dhaka.
On July 27, 1971, her first child Sajeeb Wazed Joy was born. Her second child Saima Wazed Hossain was born on December 9, 1972.
After the assassination of Bangabandhu and most of her family members by a group of disgruntled army officers on August 15, 1975, Hasina along with her sister, Sheikh Rehana, was offered political asylum in India, where she stayed till 1981. During the time, she was elected president of Awami League in her absence.
Hasina returned home on May 17, 1981.
In 1996, 21 years past the assassination of Bangabandhu, Hasina led Awami League to power and became the prime minister. In 2008, she led the alliance to another victory with 90 percent of the seats in parliament. In 2014, Hasina once again became prime minister. She assumed office of the prime minister for the third consecutive term after winning the December 2018 election.
Under her leadership, Bangladesh has become a role model for development, attaining steady economic growth and becoming self-sufficient in food. The country also achieved noticeable progress in various fields such as women's empowerment, agriculture, education, health, infrastructure, communication, energy and power, trade and commerce, ICT and the SMEs.
Sheikh Hasina has been honoured with various honorary degrees, accolades and awards in recognition of her leadership excellence. Her most recent role in providing humanitarian support to Rohingyas drew accolade from global leaders, institutions and personalities.