Hamid for active role in climate change adaptation
Marshall Islands president, Ban Ki-moon, World Bank CEO, Dutch queen in town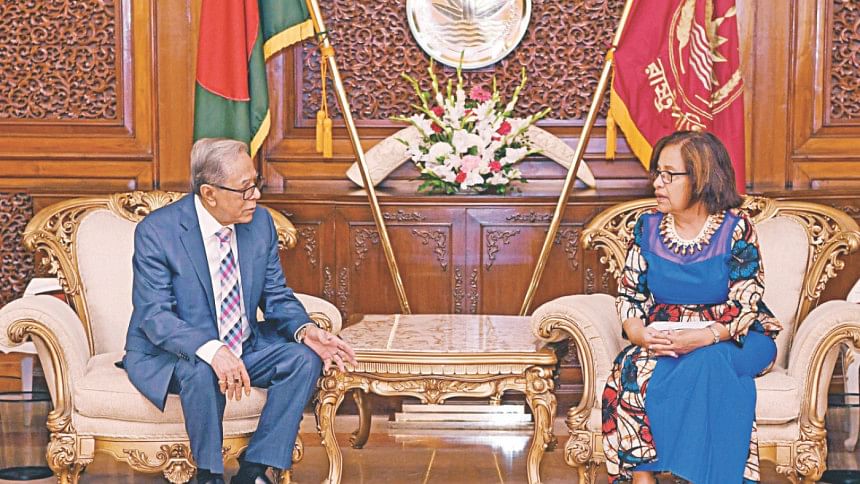 President Abdul Hamid has called on developed nations and donors to play more active roles and spend more money to promote climate change adaptation.
He made the call when Marshall Islands President Hilda C Heine paid a courtesy call on him at Bangabhaban yesterday afternoon, reports UNB. The president's Press Secretary Joynal Abedin briefed reporters after the meeting.
Hamid said Bangladesh is producing low carbon and emphasising on renewable energy, energy efficiency and conservation.
"Over the last decade, we've spent on an average around US $1 billion annually for climate change projects… To achieve climate resilience, we've established a dedicated 'Climate Change Trust Fund' with our own domestic resilience," he said.
Heine said the two countries can work together in regional and international forum to raise voice on climate change.
Heine arrived in Dhaka on a two-day visit to attend the "Dhaka Meeting of the Global Commission on Adaptation".
Former UN Secretary-General Ban Ki-moon and World Bank CEO Kristalina Georgieva also arrived yesterday evening to attend the programme, which will be inaugurated by Prime Minister Sheikh Hasina at InterContinental Dhaka today.
Ban Ki-moon, the current chair of Global Commission on Adaptation, will address a session. Heine and Ban Ki-moon are likely to visit Ukhiya in Cox's Bazar.
Meanwhile, UN Secretary-General's Special Advocate for Inclusive Finance for Development, Queen Máxima of the Netherlands arrived in Dhaka yesterday on a three-day visit to promote people's access to inclusive financial services, said a UNDP statement.