Govt partnerships with all sectors helped in development: Dr Atiur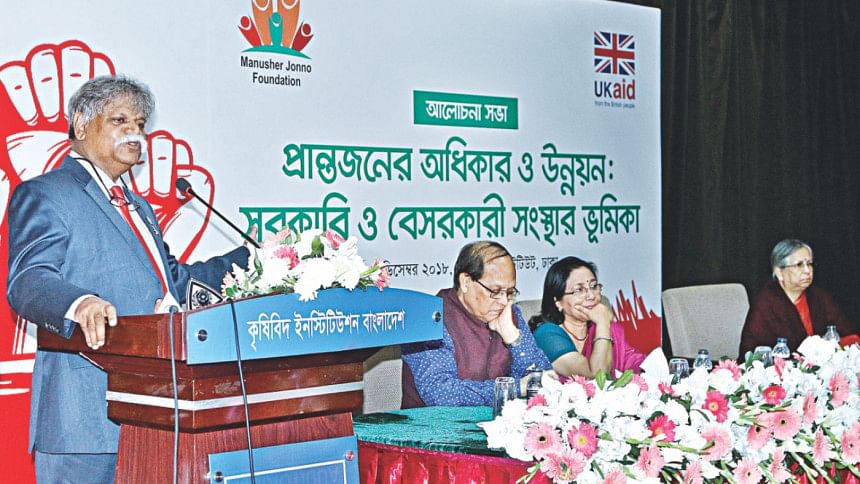 Former Bangladesh Bank governor Dr Atiur Rahman yesterday said a partnership between the government and non-government sectors has been created over the country's development that would not be easy for any government to overlook.
"The private sector, the non-profit sector and the government sector -- all of us are working hand in hand; it's a collaboration or partnership for the development of Bangladesh," he said while addressing a discussion organised by Manusher Jonno Foundation (MJF).
The discussion, titled "Rights and development of the marginalised: Role of government and non-government organisations", was organised at the capital's Krishibid Institution Bangladesh, to mark International Human Rights Day.
Dr Atiur termed the collaboration "complementary" and credited the collaboration to the country's annual economic growth of 7.8 percent GDP that helped reduce poverty and extreme poverty.
The collaboration had begun soon after the Liberation War of 1971 through distribution of relief materials by some social entrepreneurs, he said, adding that they gradually transformed their activities into development works and built partnerships with the government.
Now their work has expanded to every sector including education, health and human rights, Dr Atiur, presently a Development Studies teacher at Dhaka University, also said.
He also observed that the government's vision of a broader socioeconomic development has reflected in national policies including the 7th Five-Year Plan and the Delta Plan that attempts to address issues related to climate change and urban life.
Addressing the discussion, human rights activist Sultana Kamal said whether the marginalised will be benefited from the development process largely depends on the country's economics and the ones who are in charge of politics.
The country's politics is currently heavily dominated by businesspeople who are out there to secure their own benefit, she observed.
Chairing the discussion, MJF Executive Director Shaheen Anam in her speech said despite economic progress, there have been incidents of human rights violations in the country.
She said unless accountability and good governance in service sectors and the judicial system are ensured, rights of the people will not be established in the country.
Prof Mizanur Rahman, former chairman of National Human Rights Commission, said due attention needs to be given to address the concerns of the minority communities who are feeling vulnerable ahead of the election.