A good part-time job opportunity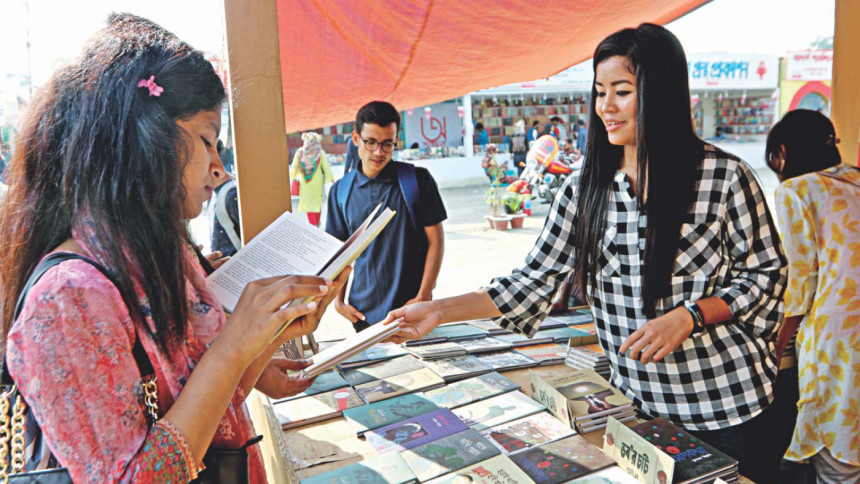 The month-long Ekushey book fair provides a number of young people with the opportunity to earn some money and have an amicable experience of interacting with visitors while working as stall attendants.
Of the 499 publishing houses participating this year, most stalls and pavilions have students working as stall attendants, according to the fair sources.
They consider it a good part-time job that does not hamper their studies and enables them to make some extra money while presenting the opportunity to meet and spend time with writers, publishers and book lovers.
"Working as a stall attendant at the book fair gives me a chance to develop my communication skills through dealing with the customers," said Roluahpuii Panykhua Mary, a student of Eden Mohila College.
Mary, who was working at the Sabyasachi publication stall, said she helps with bringing in and selling books; opening, closing and maintaining the stall; and looks after delivering daily information of new books from the stall.
Besides gathering valuable experience, each young attendant earns between          Tk 5,000 and Tk 10,000 from the fair.
"It's a decent opportunity for these students who are always on the lookout for part-time jobs," said Mahbubur Rahman, a student of Dhaka University.
Mahbub, who was working at the Tamralipi stall, said the publishing house will pay him Tk 8, 000 for his month-long service.
Another staff, Sraboni Akter Tisha, a student of Eden Mohila College, said that one of her friends asked her to submit CV to join as a stall attendant.
"I'm a little down as the fair only has three more days to go, but the thought of getting paid by the publisher makes me excited. I will buy some books for me and toys for my younger brother," she said. 
Publishers are seemingly happy with the arrangement as well, as they need extra hands to smoothly operate business at stalls.
"We employ university students as they are knowledgeable on contemporary books and writers, and usually have good communication skills," said Shatabdi Vobo, owner of Sabyasachi.
He said that stall attendants are also being provided light snacks every evening and lunch on Fridays and Saturdays.
Meanwhile, a total of 145 new books arrived at the book fair yesterday.