Fighting the good fight
Kumudini Hospital continues to provide healthcare services amid flood, Covid-19 challenges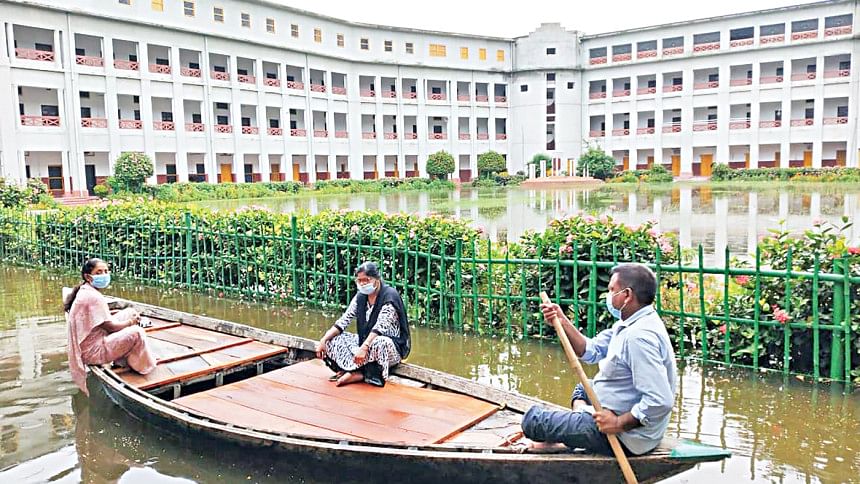 Despite the ongoing pandemic situation, Kumudini Hospital in Tangail's Mirzapur has been continuing its health care services through various initiatives to help people in need.
The authorities of the charitable institution, founded by late philanthropist Ranada Prasad Saha, also launched free telemedicine services for patients in this regard.
But amid the coronavirus situation, the country was also hit by flood. Around 37 percent of the country's total area has been flooded, said Prof AKM Saiful Islam, of Buet's Institute of Water and Flood Management, last month after analysing satellite images.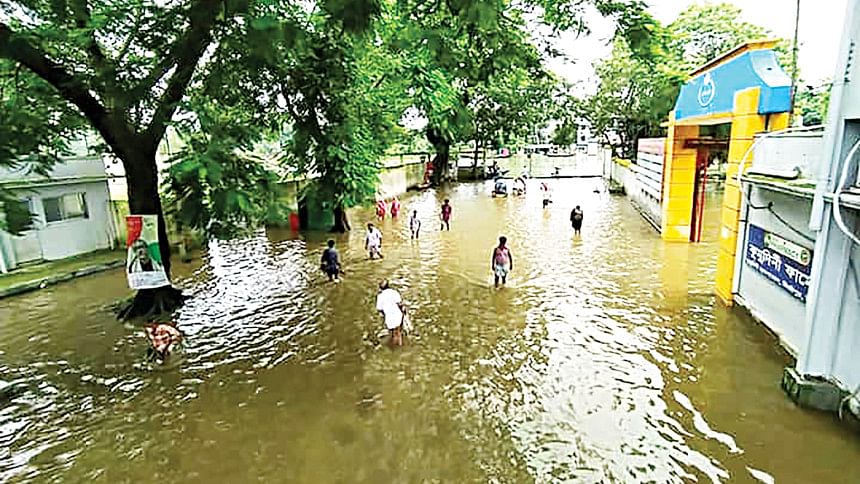 In Tangail, fresh areas have been flooded after a 30-metre portion of a flood protection dam collapsed at Naogaon in Sadar upazila on July 29.
Although water has started receding from some areas, the flood situation remains unchanged. The premises of Kumudini Hospital have gone under knee-deep water, causing hardships to patients.
The entire Kumudini Complex as well as nearby roads has remained inundated for the last two weeks as water level increased in the adjacent Louhajang river.
The flood situation has been exacerbated further by unplanned constructions in the areas surrounding the complex, resulting in poor drainage, said hospital authorities.
Despite obstacles, the hospital carries on serving people in need.
But patients and hospital staff continue to face hardships due to the prevailing situation as they are forced to travel on boats to enter and exit the hospital premises, they said.
The hospital authorities have already moved many of its equipment from the ground floor to protect those from flood water, said Animesh Bhowmik Liton, assistant general manager of the hospital.
"However, the health care services including emergency, operation theatres, intensive care unit, delivery rooms and diagnostic centre remain fully operational," he added.
In addition, he said, the Kumudini Welfare Trust arranged for distribution of food relief among low income families in Mirzapur and Narayanganj.
The hospital has also been responding to the Covid-19 crisis by conducting village outreach programmes in the surrounding unions, where its doctors, nurses, intern doctors and administrative staff have been visiting different unions for medical consultation and awareness building, Animesh said.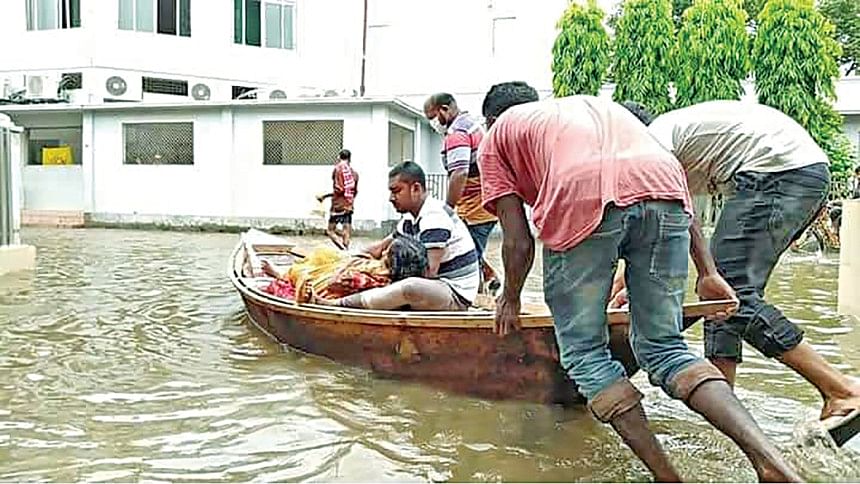 It also initiated process to ensure safety of its frontline staff who come into contact with patients.
On the other hand, other institutions under the Trust on the Kumudini Complex including Kumudini Women's Medical College Bharateswari Homes and Kumudini Nursing School and College have been continuing online classes throughout this period.
In a statement yesterday, the hospital management said Kumudini Hospital remains operational in spite of many challenges presented by the current Covid-19 and flood situation and continues to provide healthcare to all who come here.
They are fully committed to fulfill their founder's dream of creating an equal and inclusive society where high-quality healthcare and education are accessible to all, it said.