Ferry services remain suspended for 4th day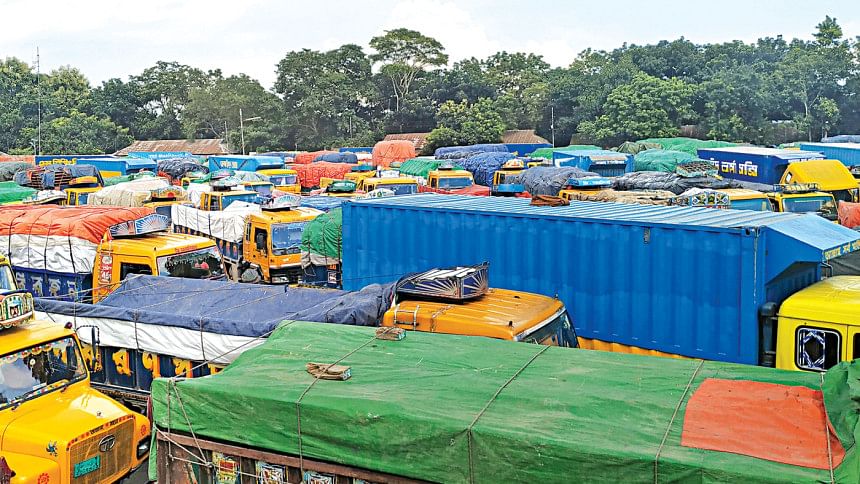 Ferry services on Shimulia-Kathalbari route remained suspended for the fourth consecutive day yesterday due to navigability crisis, causing immense sufferings.
Authorities said they were working hard to restore navigability on this route, considered one of the major gateways to the southern districts.
"We have kept dredging the channel and hope that the crisis will be resolved soon," Commodore Golam Sadeq, chairman of Bangladesh Inland Water Transport Authority (BIWTA), told The Daily Star yesterday.
Shimulia point is located in Munshiganj while Kathalbari in Madaripur.
On September 13, authorities suspended ferry service on this route. On September 15 and 16, two ferries operated in an alternative channel.
But in the process, the ferry took around seven to eight hours to cross the river Padma where it took around 1 hour through regular channel, so authorities stepped back from operating through the alternative route.
Normally, 15 ferries run on Shimulia-Kathalbari route. But the services were facing disruption over the last couple of months due to strong currents and navigability crisis.
The problem has been intensifying over time thanks to continuous sedimentation, said BIWTA officials.
Amid such a situation, the authorities were forced to shut down the services on September 3. It resumed on September 11, but ferries were facing difficulties while plying.
Because of the suspension, vehicles specially goods-laden trucks remained stranded at Shimulia Ghat, said Helal Uddin, traffic inspector at the berthing point.
Many transport operators -- who already knew about the suspension -- are using alternative ferry route, said Helal, adding that many individuals -- who don't have private vehicles -- have to cross the river through launches or speed boats from the ghat.
Meanwhile, more than 500 goods-laden trucks got stuck at Paturia Ghat as the flow of vehicles intensified on Paturia-Daulatdia ferry route.
Paturia point is located in Manikganj while Daulatdia in Rajbari.
Due to suspension on Shimulia-Kathalbari route, a huge number of vehicles are preferring Paturia-Daulatdia route, creating a long tailback, said Khandoker Tanvir Hossain, assistant general manager (commerce) of Bangladesh Inland Water Transport Corporation (BIWTC) Aricha Regional Office.
[Our correspondent from Manikganj and a correspondent from Munshiganj contributed to the story]