English Medium Schools: Parents demand no fee hike for 3 years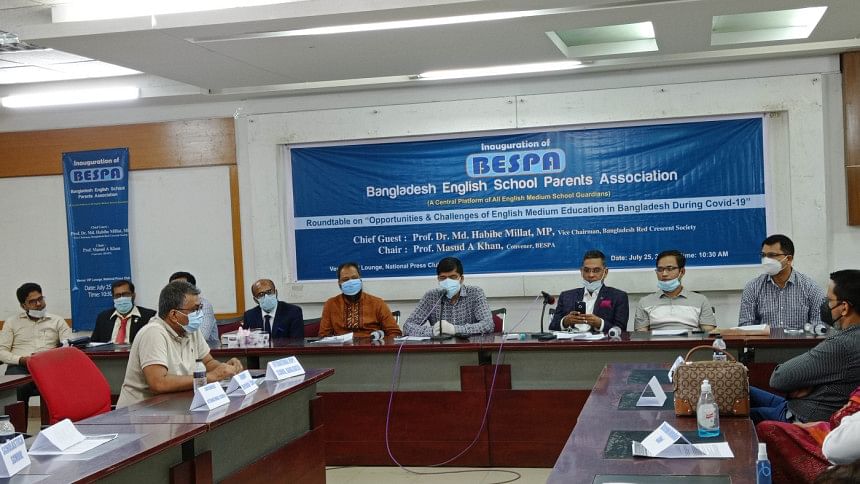 A section of guardians of students enrolled at English-medium schools yesterday demanded that all such schools not increase tuition and session fees for the next three academic years, taking the pandemic into account.
They made the demand while talking at the launching ceremony of Bangladesh English School Parents Association at National Press Club. They also demanded forming a regulatory body to monitor activities of these schools.  
The association also arranged a roundtable on "English-medium Education: Opportunities and Challenges during Covid-19" at the ceremony.
Parents said access to online education should not be cancelled due to delayed or non-payment of tuition fees during this crisis.
Prof Masud A Khan, the association's convener, said there is a perception that only students coming from rich families get enrolled at English-medium schools, which is not true.
He urged all the schools to meet their demands as they are rational.
Organisers said their major objective is to press for their rational demands to address the "unethical issues" of school authorities over the decades. They are against any commercialisation of education.
MP Prof Habibe Millat, the association's advisor, said in  absence of regulatory bodies, it has become difficult to oversee these  schools.
Jahirul Islam, the association's co-convenor, placed a 14-point demand at the event.
The points include forming school management committees, incorporating guardians as representatives; creating child safeguard policy to control bullying, racism, physical harassment and abuse; all schools following same grading system; and having websites with detailed information like reports on  school environment, audited financial statements, admission and tuition fees. 
Several guardians, while talking at the programme, said many school authorities are barring students whose parents failed or delayed to pay tuition fees. This is humiliating for parents and puts mental pressure on students.
They send their children to English-medium schools aiming to make them global citizens, but in many occasions, education quality of many of these schools are low.