Elderly self-publisher's photo goes viral
A photo of an elderly man standing in front of a stall at Amar Ekushey Grantha Mela 2020 went viral on social media this evening. The discussion about his identity dominated conservations among book lovers today.
The picture shows the man dressed in a shirt with a jaunty cap going past a book stall carrying three bags, a single book in his hand.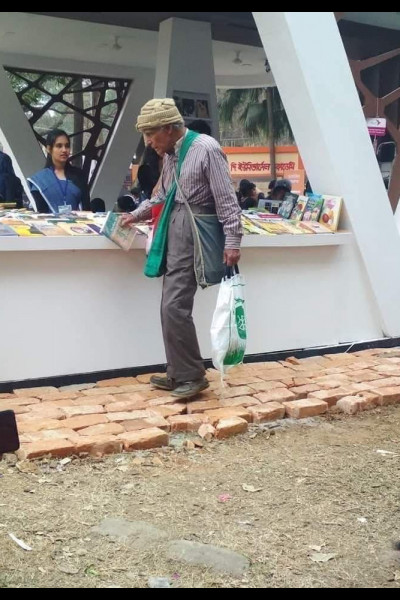 He is none other than Dr Foyzur Rahman Al-Siddique, a former researcher and scientist of Bangladesh Atomic Energy Commission (BAEC).
When talking to The Daily Star this evening, Al-Siddique told this correspondent that he knew nothing about the photo that had gained so much currency on Facebook as he was not active on social media.
"I go to the book fair and sell my book, roaming here and there on Suhrawardy Udyan premises; sometimes I give copies of my book to different stalls," said the writer.
He said that five hundred copies of his book titled "Bangalir Joy, Bangalir Berthota [Success of Bengalis, Failure of Bengalis]" were published by Poroma Publication in 2000, but the publication house has not since brought out further editions.
"After failing to find a publication house, I have been printing 150 to 200 copies every year, using a photocopy machine, and selling the books at the book fair," said Siddique, who is also a former director of Nuclear Science Research Institute (NSRI) under BAEC.
Siddique said his book is available at the stall of Puthiniloy publication this year.
"I want to highlight what we have achieved and what our failures are. A nation that does not know what mistakes it made cannot grow well. So, it is essential to know our mistakes," he said.
He stressed on setting up an independent stall at the fair for those writers who struggle to find publishers.
Born in 1934 at Nawabganj upazila under Dhaka district, Siddique graduated from the Department of Physics of Dhaka University. According to the author page of his book, he received his PhD from Cambridge University, UK. 
One of those who shared his photo on social media, Rayhan Rahman, a private university student, wrote ,"Nowadays, many writers whose books do not even carry quality content are seeing booming sales due to gigantic advertisement. On the other hand, talented researchers like FR Siddique are not getting proper platform; this is shameful."