Drizzle no damper for bookworms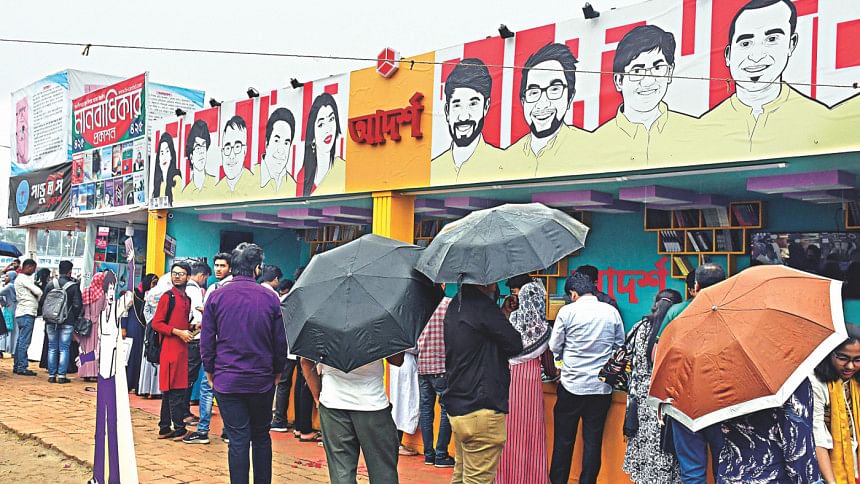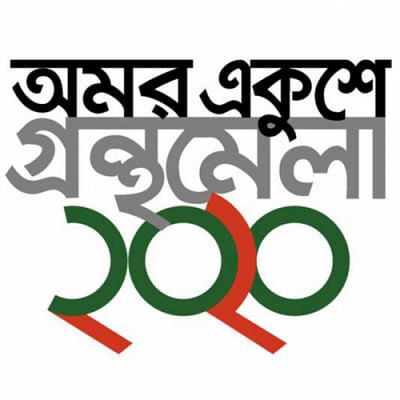 Although spring sky took a shade of uncharacteristic gloom yesterday, it was no match for last-minute shoppers, who turned out in droves at Amar Ekushey Grantha Mela.
Wielding umbrellas, families, groups of friends and couples turned up at Suhrawardy Udyan since afternoon, some with to-buy lists, while others still browsing.
"The book fair comes once  a year. Although it's drizzling, we don't really mind it. Nothing can dampen your spirit when you look forward to buying new books," said Sristi Akhter, a former Dhaka University student who came with her cousin Rehana to buy Anisul Haque' s latest novel "Ekhane Themona".
Some fair goers actually appreciated the light rain and cloudy sky, saying it gave them a relief from the dust that usually becomes a problem throughout the fair as crowd grows in the last week.
"I'm allergic to dust, and bringing children to such a crowded place sometimes is a hassle. But, as the day is cloudy and the rain helped clean up the air, my daughter and I can roam the fair freely" said Rakibul, with her five-year-old daughter Maisha on his lap.
Publishers were also prepared for possible rain, keeping plastic sheet covers.
Rumman Tarshfiq, publisher of Pendulum, said, "We knew it could rain today. Therefore, we had taken precautions.  We had sheets to cover the books."
"However, if a heavy storm  comes in, it might be difficult for small stalls to keep their books safe," the publisher added.     
Salespersons also remained upbeat, saying the inclement weather did not affect their sales much.
Khairul, a stall attendant at Adarsha Publications, said, "Even amid the rain, our sales didn't go down. People are coming and asking for books from our stall"
"Lok-e Ki Bolbe" by Ayman Sadiq and Sakib Bin Rashid, and "Emotional Marketing" by Munir Hasan are the hottest sales of the publication, he said.
Niaz Shihat, a staffer at Chandrabindu Prokashon,  said, "We are happy to see visitors even in this weather, rain and we are hopeful to see a good sale at the end of day."
"History of Bangladesh Rock: The Legacy of Azam Khan" by Maqsoodul Haque is high in demand at their stall, he added.
Sheba Prokashoni salesman Mominul Islam said, "We always have loyal fans who visit and seek the classics from us. Today is no different."