Digital map highlighting torture centres and mass graveyards
Survey finds 5,121 incidents of mass killings in 20 districts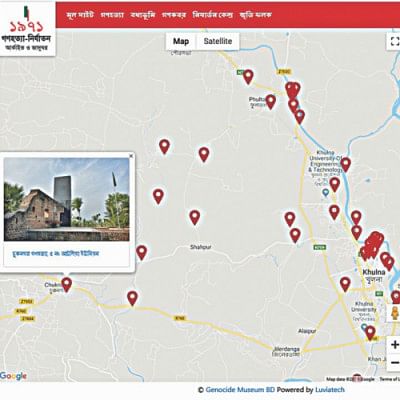 For the first time in Bangladesh, a digital map has been developed pinpointing torture centres and mass graveyards to expose the magnitude of the genocide carried out by the Pakistan occupation army during the Liberation War in 1971.
In a survey, the Centre for Genocide, Torture and Liberation War Research Affairs has found 5,121 incidents of mass killings in 20 districts of the country, in which at least five to over 1,000 people had been killed by the then Pakistani army.
It also found 404 mass graveyards, 502 mass graves and 547 torture centres, which are pinned on the digital map at https://www. genocide museumbd.org
The Centre for Genocide, Torture and Liberation War Research Affairs yesterday launched the survey reports on "mass killings and mass graveyards of 20 districts" at Shamsur Rahman Auditorium in Bangla Academy.
At the launching ceremony, President of 1971: Genocide-Torture Archive and Museum Trust, Muntassir Mamoon said, "The survey has revealed that we had little knowledge of the magnitude of the Liberation War."
"Victory is important but ignoring or giving little importance to the sacrifices of the masses turned the history of the Liberation War one-sided and created scope for distortion, which is unacceptable," he added.
Quoting volume two of "Muktijoddha Kosh", Muntassir said a total of 905 incidents of mass killings, mass graveyards and torture centres are mentioned in the book.
"But in our initial survey at 10 districts we found 2,428 such cases in 1971. The number will go up after accumulation of information from 64 districts… In that case, the number of martyrs may not be limited to 30 lakh," he added.
In March 2018, the centre published report on mass killings, mass graves, mass graveyards and torture centres in 10 districts -- Nilphamari, Bogura, Natore, Kurigram, Pabna, Rajshahi, Satkhira, Narayanganj, Bhola and Khulna. They found 1,749 incidents of mass killings in those districts.
This year, they published report on Gaibandha, Jamalpur, Narail, Panchagar, Moulvibazar, Jashore, Lalmonirhat, Brahmanbaria, Cox's Bazar and Barishal where 4,180 incidents of and information on mass killings, mass graves, mass graveyards and torture centres are found.
"There is politics behind mass killings. In 1971, Pakistan did it to suppress us and turn us into their colony permanently," he said.
The noted historian said the governments, after the murder of Bangabandhu Sheikh Mujibur Rahman in 1975, attempted to erase the incidents of mass killings from history.
Muntassir said they will gradually incorporate all locations of 64 districts on the map.
"If we can publish it on Google, more people will know the truth about Bangladesh. We need more financial support for that," he said, seeking support from the government.
State Minister for Cultural Affairs KM Khalid termed it a good initiative and said they will continue their support to the Centre.