Battery-Run Rickshaws on DSCC Roads: Defying ban, they keep on running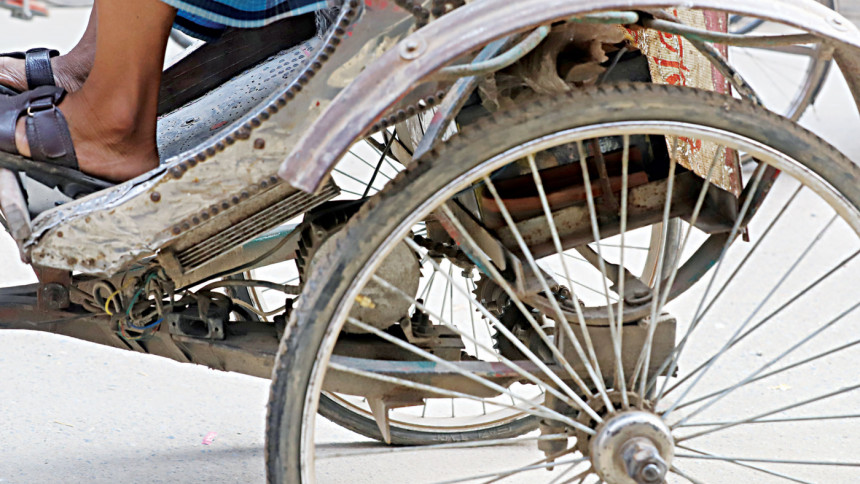 "Run," shouted battery-powered rickshaw driver Sajib to his cohorts. A police van was approaching their group of five standing at the Section area beside Gabtoli-Babubazar Road near Kamrangirchar, and they could not afford to stay still.
In the blink of an eye, all five dispersed. From their initial position, they moved to places where police could not get to them. But as soon as the van left, they were back at it again.
This is an example of how unauthorised battery-run rickshaws and rickshaw-vans continue to operate in the city, despite a High Court ban, a scenario witnessed first-hand by this correspondent. The HC on March 8, 2015 banned plying of such rickshaws, as they have no proper licence.
However, six years on, authorities seem to remain negligent in acting against them, even after Dhaka South City Corporation Mayor Sheikh Fazle Noor Taposh on September 13 last year announced to go on the offensive against all such vehicles in the area.
Visiting DSCC areas including Kamrangirchar, Lalbagh, Islambagh, Gendaria, Demra and Konapara, this correspondent saw the rickshaws plying here and there. Drivers said it is not too difficult to evade authorities.
"Whenever we see the cops, we flee or divert our direction. If we get caught, they charge us Tk 1,200 as wrecker fee," said Sajib.
Allegations are rife that illegally modified vehicles operate on the roads, despite the ban, by bribing police and ruling party men. Insiders say it is a crore-taka ring, complete with ruling party members, local influentials, and law enforcers as stakeholders.
They allegedly take Tk 20-50 from each driver daily, and provide them with a "permisison" card.
But after Taposh's announcement, this card system was annulled in many areas. Battery-run rickshaw drivers said ever since the announcement, police have started to fine them whenever they are caught. Despite the fining system, authorities are apparently allowing the unauthorised vehicles to run.
"Before the mayor's announcement, we could freely drive from Azimpur to Lalbagh or Kamrangirchar with permit cards. Now, police are constantly on our tail," said Sajib.
"Sometimes, they give us a fine slip. When we get them, we can go through the day, producing the slip whenever stopped, but the hide and seek resumes the next day," said Sujan, another rickshaw driver from Lalbagh.
The actual number of such vehicles is hard to approximate, but DSCC officials estimated it to be somewhere around 30,000-40,000.
According to statistics of Accident Research Institute of Buet, around seven to eight percent of all accidents occur due to such vehicles.
Jahir Uddin, who owns six battery-rickshaws in Lalbagh, said they are still running on the streets, but drivers are now facing more challenges. "A battery-run rickshaw costs nearly Tk 50,000. Drivers pay a daily 'joma' of Tk 350 per battery-rickshaw, instead of Tk 100 for a regular one. That's why we keep them running [despite the ban]."
Salek Mia of Demra said he bought five such rickshaws on loan right before the pandemic hit. "How will I pay off my debt if we cannot run those?"
DSCC spokesperson Md Abu Nasher said registration and application renewal process of vehicles like rickshaws, vans, horse carts in DSCC has started after 34 years to bring public transportation in order.
"After DSCC started drives since October 4 last year, new requests have started flooding in from owners and drivers of these battery-run vehicles, seeking time to convert them into normal rickshaws," he said. "We have decided to give them the opportunity to convert the vehicles and appeal for registration in the second phase."
In the second phase, from January 10 to March 30, DSCC has already received 20,000 new registration applications. Once it ends, DSCC will take stern actions against the illegal vehicles, he said.