Climate change will directly impact Bangladesh's security: speakers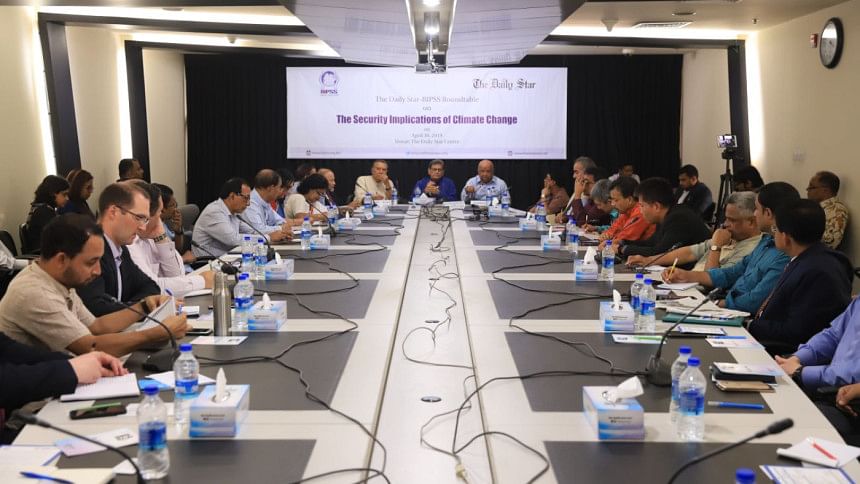 Climate change will have a direct impact on Bangladesh's security as it will cause severe food and water crisis and displace people, experts said yesterday.
They also said the resource crisis will create conflicts among people both locally and internationally and intensify terrorism further.
They said this at a roundtable titled 'The Security Implication of Climate Change' organised jointly by The Daily Star and Bangladesh Institute of Peace and Security Studies (BIPSS) at The Daily Star Centre.
While giving a presentation on implications of climate change, BIPSS President Maj Gen ANM Muniruzzaman said, "We should be prepared to see disintegration of social cohesion, internal instability, and in some cases, territorial breakdown… It [climate change] would lead to human displacement that will trigger illegal migration to neighbouring countries and human trafficking."
"Temperature in Bangladesh is increasing and by 2050 we could be seeing a rise by 2.4 degrees if nothing drastic happens," he said, adding that such increase of temperature will cause frequent cyclones and storms.
Muniruzzaman, also chairman of Global Military Advisory Council on Climate Change,
also said that climate change will affect sustainable development goals related to food security, poverty, education, gender equality, environmental sustainability and development. "Bangladesh has done enough in preparing the right strategies, but we lack resources. We lack resources because the international community has not lived up to its promise of providing resources," he said.
Referring to areas of the country affected by salinisation, Dr Saleemul Huq, director of International Centre for Climate Change and Development, suggested investing in children of farmers of those areas.
"If we don't invest in them, they will all migrate to Dhaka which is already overburdened. We will train them, so that they can be incentivised to live in other towns," he said. Reiterating that developed countries are responsible for climate change, Dr Huq suggested applying the same formula internationally. "It's a global responsibility. We can engage them by saying 'You're causing displacement of our people, so you need to take some of them'."
To attract developed countries to recruit people from the country willingly, he suggested grooming the youth as qualified professionals.
Atiq Rahman, executive director of Bangladesh Centre for Advanced Studies, said sea level rise and formation of islands are happening simultaneously in the country. But the rise is happening so fast that it will ultimately beat the island formation, and submerge those.
Imtiaz A Hussain, a professor of Independent University, Bangladesh, said the nation has not seen war since 1971, but war may come our way 50 years from now because of climate change. The Daily Star Editor and Publisher Mahfuz Anam and Associate Editor Brig Gen (retd) Shahedul Anam Khan, IUCN Bangladesh Country Representative Raquibul Amin and Prothom Alo Consulting Editor Ayesha Kabir also spoke at the discussion.