Chaos over janaza in Ctg
BCL-Shibir lock in chase, counter-chase in Chattogram College at Jamaat leader's funeral prayers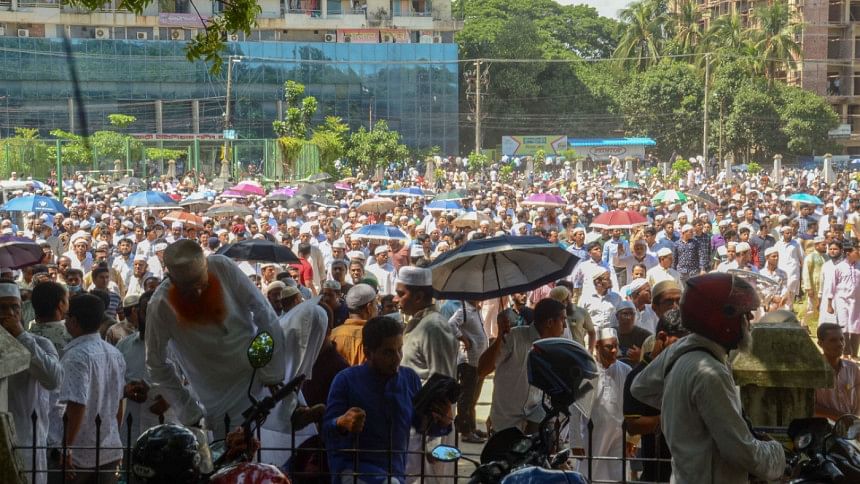 A chase and counter-chase took place between activists of Bangladesh Chhatra League and Shibir on Chattogram College premises yesterday afternoon when the latter came to the campus to attend a namaz-e-janaza of a central Jamaat leader.
On Friday, Muminul Haque Chowdhury, central executive member of Jamaat, died at a port city hospital. Chowdhury was the father-in-law of Abu Reza Mohammad Nizamuddin Nadwi, a lawmaker from Chattogram-15 (Satkania-Lohagara) constituency.
His namaz-e-janaza was held at Chattogram College field (popularly known as Parade Maidan) after Zuhr prayers yesterday, attended by some 3,000 Jamaat-Shibir men.
Seeing the activists of pro-Jamaat student group on the college premises, BCL activists became aggravated, said witnesses.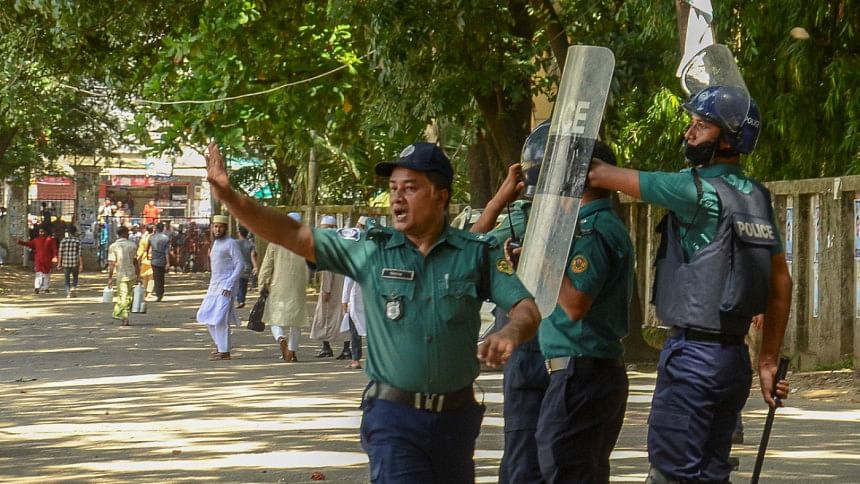 At one stage, witnesses added, some activists of the two organisations locked in an altercation, which eventually led to the chase and counter-chase.
Mahmudul Karim, president of Chattogram College unit of BCL, claimed that at least seven activists of pro-Awami League student organisation were injured in the attack by Shibir men.
"We did not know about the janaza," Mahmudul told The Daily Star. "In the afternoon, students found out that the Shibir cadres, who were ousted from the campus some three years ago, were trying to make their way into the college."
He alleged, "When we asked police how some of them [Shibir men], accused in at least 20 cases, are roaming around on the campus in broad daylight in front of law enforcers, they kept mum."
"So students tried to resist them. But the Shibir men swooped on students and BCL activists," he said.
Contacted, Nezam Uddin, officer-in-charge of Chawk Bazar Police Station, said those who came to attend the janaza went back as soon as it ended. Also, the ground is used for such religious occasions on a regular basis, and they had permission to hold the janaza.
He, however, claimed that no chase and counter-chase took place at that time. "There were some commotion… so we dispersed both groups and brought the situation under control," he said.
About Mahmudul's allegation, the OC said, "Around 3,000 people attended the janaza. Among such a large number of people, it was not possible to identify who were accused in cases."
This correspondent tried to get in touch with several Jamaat and Shibir leaders over the phone, but none of them responded.