A case for pretty pavilions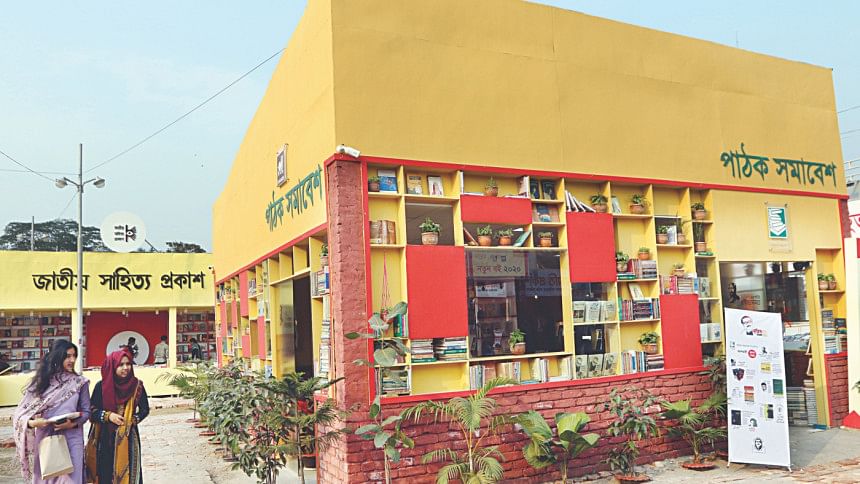 Avid readers steadily filled up Ekushey book fair premises on its fourth day, some tagging along with their friends, while others brought their little ones.  
While Bangla Academy premises saw a number of people going through the stalls, Suhrawardy Udyan is where all the excitement is at, possibly because all big players in the publishing industry put up their pavilions there.
With so many books and stalls to peruse over, attracting visitors is imperative for publications. For that reason, big publications usually come up with distinct ways to entice readers.
One of those ways is to design unique and novel pavilions. Pathak Shamabesh, for instance, did just that.
Rasel Ahmed, a representative working there, said the design of the pavilion does affect reader interaction.
"Our design philosophy is to make readers as comfortable as possible. They can come inside, go through our shelves, pick a book of their choice, sit down and have a relaxing read before deciding to buy something," he said.
Pathak Shamabesh's pavilion at this year's fair is akin to a small cosy library. With a warmly lit room where rays of sunlight seep through, books are organised in shelves unlike other pavilions, and small plants are placed, giving everything a natural feel. The best feature, however, are the sofas, which are placed in a tiny corner.
"With so many books on offer, it's hard to pick the right one for yourself. It takes time to decide which one to buy among the many books staring at you. If you look around, you'll see everyone standing for long periods with books in their hands. That is exhausting and annoying, which led to us accommodating seating at our pavilion," he added.
Throughout the hours, people kept going in and out of the pavilion, some taking their time to look at the whole collection, while others were zooming through.
Another pavilion which is visually appealing is that of Anyaprokash. They have set up a castle-like pavilion which visitors surrounded from all four sides at all times.
But is it all about the looks?
"I don't think the design of the pavilion matters that much when it comes to actual sales. We're seeing that readers are approaching our pavilion due to our collection, particularly the Humayun Ahmed books we have on display," said Shah Islam Fazle Rabbi, a representative working for the publisher.
Rabbi might just be right, as pavilions of Tamralipi and Adarsha had readers buzzing all around, not for their design per se, but the collection of non-fiction books.
From a reader's perspective, however, it seems people don't just resonate to one aspect, but are more enamoured when everything comes together.
"I just went through the stalls but didn't buy anything," said Nazim Rahman, a first-time visitor. "I was drawn to certain pavilions when I saw them from afar, but when I went there, I didn't find anything worth buying," added the middle-aged fellow.