Bonolota Express starts journey
Rajshahi-Dhaka nonstop train service launched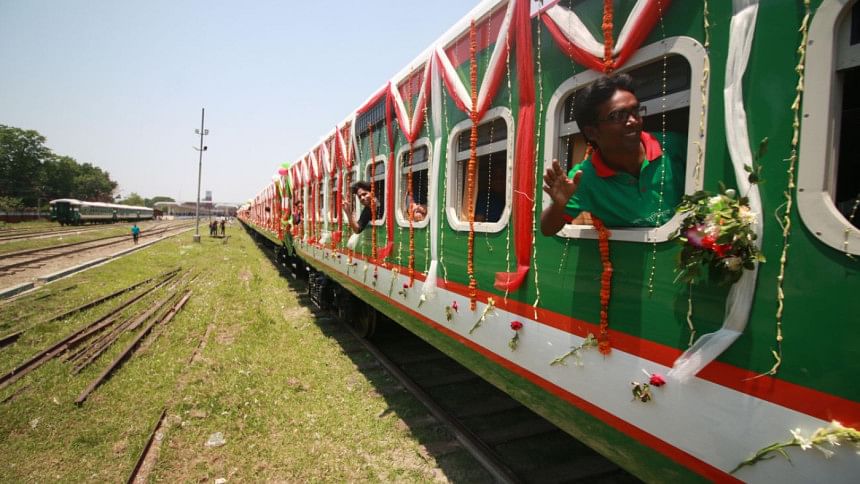 With an aim to boost rail connectivity with the northern district, a nonstop intercity train service on Dhaka-Rajshahi route began yesterday morning.
Decorated with wreaths and balloons, "Bonolota Express" started its test run from Rajshahi Railway Station at 10:10am. The train will be open to passengers from Saturday, said railway officials.
Prime Minister Sheikh Hasina inaugurated the service by flagging off the train through videoconference.
Railways Minister Nurul Islam Sujon and Rajshahi City Corporation Mayor AHM Khairuzzaman Liton attended the inauguration programme. Later, the minister boarded the train to partake in the first-ever nonstop journey on the route.
The train will run six days a week except for Fridays. Its fare will be 10 percent more than the current rate.
The 928-seat train will start at 7am from Rajshahi station and reach Dhaka at 11:40am. It would start again from Dhaka at 1:30pm and reach Rajshahi at 6:10pm.
It has 12 coaches, imported from Indonesia recently, and two engines, imported from India in 2013. It was taken to Rajshahi from Ishwardi junction on April 23.
Bonolota Express will halt for a mandatory five-minute operational stoppage before Bangabandhu Bridge on Jamuna river and at Airport Station in Dhaka.
The new train will travel at an average speed of 85km per hour and slow down to 16kmph while crossing a station. The expected travel time through its 343km route is four hours and 40 minutes.
Three intercity trains -- Silk City, Padma and Dhumketu Express -- are currently operating daily on the Rajshahi-Dhaka route, having stoppages at 10-14 stations.
This would be the third nonstop train; currently two trains are plying the Dhaka-Chattogram route.