Boimela in full bloom
2,150 books arrive in first half of the fair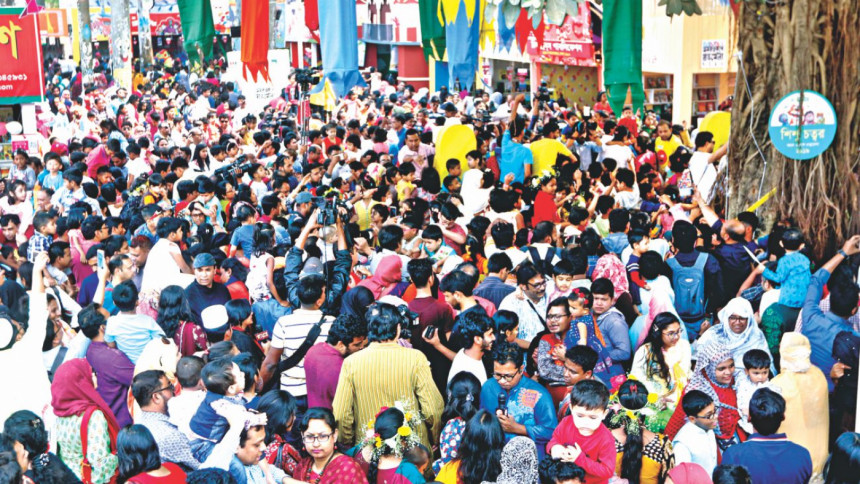 The Amar Ekushey Grantha Mela saw a huge gathering of booklovers yesterday, on the weekend following two lively days -- Pahela Falgun and Valentine's Day.   
Thousands of people gathered at the fair grounds on Bangla Academy premises and adjoining Suhrawrady Uddyan, after waiting in long queues from dawn to dusk.
"I am wearing a garland and a flower crown today as well, because I am still enjoying the festivity with my friend. I bought some poetry books today." said Mim Jahan Tonni, a student of DU's international relations department.
Meanwhile, with the arrival of 272 new books yesterday, so far a total of 2,150 new titles have hit the stalls in the first half of the month-long fair, according to Bangla Academy.
Publishers also expressed their satisfaction over good sale for last couple of days including yesterday.
"New books on poetry are in high demand, while both the new and old novels of some prominent writers including Humayun Ahmed, Zafar Iqbal, Imdadul Haque Milon and Anisul Hoque also saw good selling," said Forhad Hossain, a stall attendant of Mawla Brothers publications.
In the morning, Bangla Academy arranged its weekly special schedule for children -- "Shishu Prahar" -- that continued from 10am to 1pm.
The sellers were seen super busy managing a huge number of children and their parents, looking to buy books at Suhrawrady Uddyan. 
"It becomes too difficult for us to manage the increasing number of children at such a small place of children's corner; authorities should allocate more space for us in future," said Rayhan Siraji, a salesman at Prasiddha.
Fair sources said at least 300 new books for the children have already been published at the fair this year so far.
Dewan Aziz, publisher of Pragati prokashoni, told The Daily Star that they have already published 30 new books on children -- both fiction and educational.
Aklima Jahan, mother of fifth-grader Oporna, said they have bought some books of prominent children's writers including Selina Hossain and Ali Emam.
"My daughter likes to read ghost stories, but I am trying to convince her to read some other books, as she is growing up," she added.
Earlier at 10am, children participated at a music competition held at the main stage on the Bangla Academy premises. The announcement of results and prize-giving ceremony of the competition will be held on February 22, said a press release.