Bitterns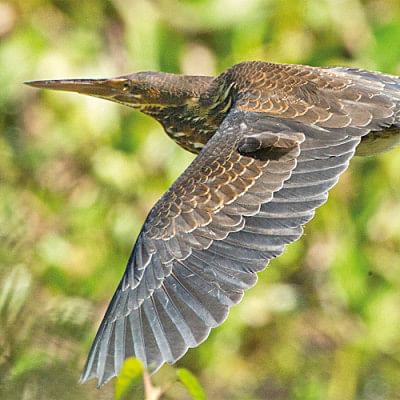 The first word that comes to mind when I think of bitterns is "shy." Although I have seen all three species of bitterns found in Bangladesh, it has never been easy. They hide inside foliage, camouflage exceedingly well and fly away quickly when I approached.
Bitterns belong to the heron family Ardeidae. Around the world there are fifteen species of bitterns divided into two genera. The genus Botaurus contains larger bitterns such as the American Bittern made immortal by John James Audobon's painting. The genus Ixobrychus contains the smaller bitterns. (A third genus, Zebrilus, has only the Zigzag Heron.)
Bitterns inhabit marshy areas, wetlands and edges of water bodies. They nest in reeds and aqueous plants and eat frogs, insects, reptiles and fish.
The bitterns of Bangladesh - Cinnamon Bittern, Yellow Bittern and Black Bittern - live here year-round. They share our wetlands with many other herons, egrets, storks and waders. All three belong to the genus Ixobrychus.
I saw the Cinnamon Bittern years ago while driving from Sylhet to Kanaighat. The fields on both sides of the road were drenched with the green that comes in monsoon. From the car, I saw a flash of rusty red colour on a bush and stopped for a closer look. As I took some photographs of the smallish bird about the size of a Kani Boga, it stared back at me fearlessly. It remains the only fearless bittern I have encountered. Over time I have seen many more Cinnamon Bitterns, but they were quick flashes. Usually they stay hidden in rice paddies. If I am walking by and inadvertently come too close, they take off swiftly.
The Yellow Bittern is about the same size as its reddish cousin. I have seen it numerous times in Purbachol usually near ponds. It flies past quickly but on two occasions I saw it perched high on a bamboo. Its yellow and brown pattern blended with yellow bamboo leaves, affording it a near-perfect camouflage.
Watching it while it was perched I noticed a distinct behaviour of this bird. While relaxed, its neck was fully retracted. But when alerted, its head shot up atop a very long neck, like a periscope.
The real challenge of bitterns, for me, has been the Black Bittern. I saw it in a fishpond in Hail Haor. I was looking for a small bird that had flown into a jumble of aqueous shrubs at water's edge when suddenly a large dark bird flew out from there. I was able to take some quick photographs and later confirmed it to be a Black Bittern.
That remains my only Black Bittern sighting. Another time, when I was sure I had found it, further examination of the photograph revealed that it was a sub-adult Little Heron that looked quite close to a Black Bittern.
In my overseas birding trips I have never seen a bittern. That makes sense, because birding during these trips is often rushed, and to see the skulky bitterns one needs supreme good luck or lots of time.
www.facebook.com/ikabirphotographs or follow "ihtishamkabir" on Instagram.