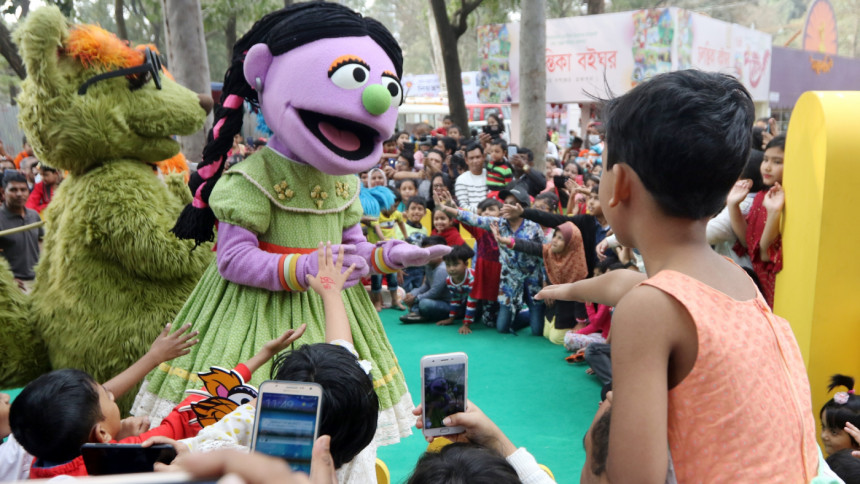 Hundreds of children surrounded Sisimpur Mancha at Amar Ekushey Grantha Mela yesterday noon, shouting, "We love to read books!" They were accompanied by mascots of the popular characters from Sesame Street's Bangladeshi adaptation. 
Marking the first Shishu Prohor (special hours dedicated to children), Sisimpur's Halum, Ikri and Tuktuki recommended the children to read more books and consequently performed skits, much to their excitement.
"I love Halum because he can sing loudly; last year I hugged him but today [yesterday], we are in a huge gathering, so I'm not sure I can do that," said six-year-old Rafan Ahmed, who came with his father Rayhan Ahmed, to the fair.
Seeing his son's excitement, Rayhan himself was smiling, while witnessing characters one would normally only see on TV. Amid strict security measures by law enforcers, their performance continued for 15 minutes.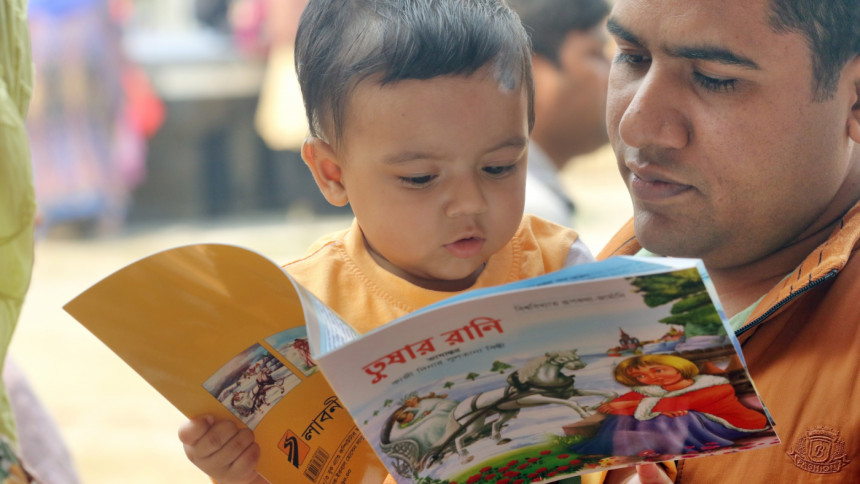 With Sishu Prohor continuing from 11am to 1pm on every Friday and Saturday, Sisimpur is scheduled for three times slots -- 11:30am, 3:30pm and 6pm -- at the book fair, said Muhaiminul Abir, a stall attendant of Sisimpur.
The representative said their stall has over 100 books and toys based on Sisimpur stories. "Children are happy to see their favourite characters, and they are also buying our books," he added.  
Not only Sisimpur, other parts of the children's corner -- situated at Suhrawardy Udyan -- also have different stalls selling a variety of books on Bangla cartoons, ghost stories, general knowledge, rhymes and science.
The little ones, donned in colourful outfits, were browsing the stalls and nagging their parents to buy books. "I bought my daughter Raisa a 'Gopal Bhar' comic book because she wanted it," said Al Amin, a private-company employee. 
He was seen browsing some other books at the stall of Danguli. At least 60 stalls -- including Ghas Foring, Jhinge Ful, Tutuni and Sishu Chattar -- have published over 300 books for children this year, said the respective stall attendants.
Earlier in the morning, a painting competition for children was held at the corner. In the evening, other stalls at both the venues were seen busy dealing with an increasing number of book lovers on the 6th day of the month-long fair.
A total of 308 new books arrived at the fair yesterday.
The Daily Star Books
Stall 491-492 on Suhrawardy Udyan, belonging to the English daily, yesterday launched a book titled "The Transition: How to Move from Fear Zone to Growth Zone" authored by two young writers. 
One of the book's author, North South University student Rafeed Chowdhury, has written about tips and tricks for various subjects like dealing with college clubs; juggling work, studies, and social life; and building useful networks in university life.
The other author, Tajdin Hassan, head of marketing at The Daily Star, offers valuable insight into entering and succeeding in corporate life.