Bhashan Char project ready to house 1 lakh Rohingyas: Navy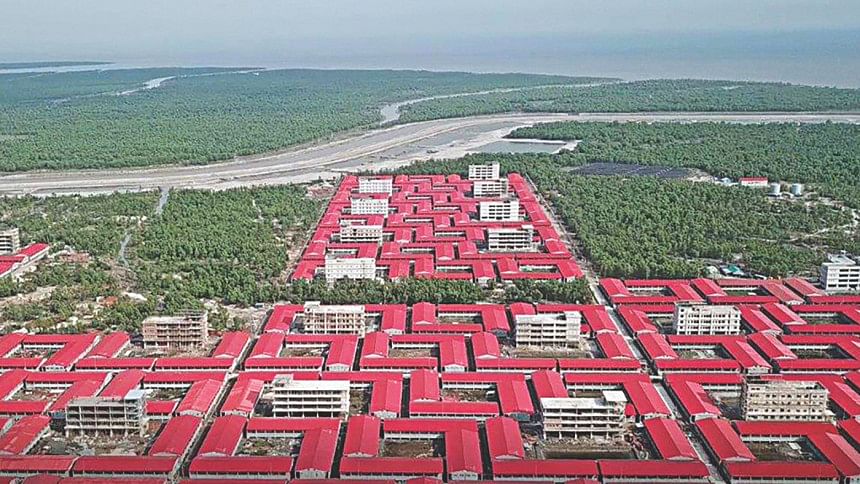 Bangladesh Navy yesterday informed a parliamentary standing committee that the Bhashan Char housing project in Hatia upazila is complete and is ready to accommodate 1 lakh Rohingya refugees.
Under the project, necessary infrastructure to secure the Bhashan Char island has also been constructed.
Concerned officials of Bangladesh Navy were speaking at the meeting of the parliamentary standing committee on defense ministry, held at the Jatiya Sangsad Bhaban.
The project officer of Bhashan Char housing project told the committee that out of Tk 2,312 crore, around Tk 2,265 crore has already been spent to implement the project.
A multimedia projection on the housing project was shown at the meeting.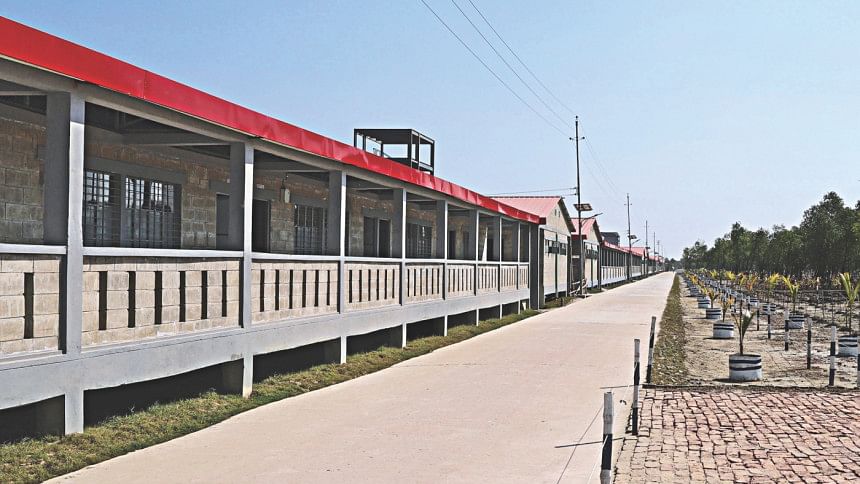 According to proceedings of the meeting, 99 percent work of cluster houses under the project has been completed. Steel erection of all 120 shelter stations have also been completed while construction of 92 shelter houses has been completed. Apart from super shops, there will be two hospitals and four community clinics for Rohingyas on the island. Various measures have been taken to save the inhabitants of the island from high tide.  
Awami League MP Shubid Ali Bhuiyan, chairman of the parliamentary watchdog, presided over the meeting. Committee members Motahar Hossain, Nasir Uddin, Mahbubur Rahman, and top officials of three services, among others, were present. The committee recommended that the government relocate Rohingyas to Bhasan Char immediately.  
Some 7,40,000 Rohingyas fled a military crackdown in Myanmar in August 2017 and crossed into Bangladesh, where 3,00,000 members of the persecuted Muslim community were already in camps.
Many Rohingya refugees said there had been mass rapes and murders in the villages, and several reports said there are reasonable grounds to believe the atrocities amounted to "genocide".
The government, earlier on several occasions, said it is planning to relocate Rohingya refugees in Bhashan Char. The idea, however, has been met with criticism from different quarters.
In an interview with a German media outlet, Bangladesh's Foreign Minister AK Abdul Momen in late August said that the Bangladeshi government wants the United Nations aid agencies to support its plan to relocate 1 lakh refugees to the island in the Bay of Bengal.