Bazas of the World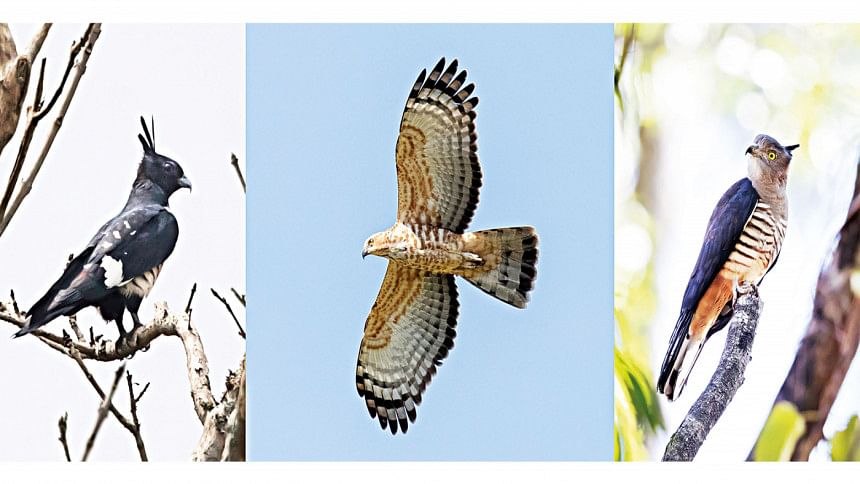 In late 2019, while visiting Bandarban with friends, I saw a medium sized brown bird perched on a distant tree. It looked like a bird of prey. After looking through my binoculars for a few seconds, I saw a crest of upright feathers on its head. Instantly I knew it was a Baza, or "Baaj Pakhi" of my childhood.
Bazas are small to medium birds of prey distinguished by their crest. They belong to the group Aviceda of the large raptor family Accipitridae. They can be found in Asia, Africa and Australia. Dwellers of the forest, they are harder to spot than raptors of open spaces.
There are five species of Bazas in the world. In Bangladesh you can find two of them: Jerdon's Baza year-round and Black Baza in winter.
The first Baza I saw was in Madagascar. The Madagasacar Baza, a locally endemic bird, can be found in the Spiny Desert, an unusual forest growing in the desert in the island's south. Trekking through this unearthly landscape, we spotted a stocky bird of prey sitting atop a tall cactus stalk. It had probably started its hunting day and was too focused on finding quarry to take much notice of us, but it took great pains to stretch and exercise its wings in several positions in preparation for action that lay ahead.
During a trip to Australia two years later, in a forest near Darwin, I saw a Pacific Baza. It is a beautiful blue-grey bird with yellow eyes. Brown and orange bars run across its white breast. With a single feather crest on its head, it looked trim and elegant. It sat on its perch for a long while before flying off to a different perch.
But I was yet to see a Baza in Bangladesh. That was about to change.
First I spotted that solitary Jerdon's Baza in Bandarban. Some hours later on that day we saw another circling overhead in a mixed flock. Two months later I saw this magnificent creature again, perched on a tea garden shade tree. As I watched, it dove to catch a large worm from a lower branch and devoured it at a leisurely pace, allowing me some photographs. I saw another deep inside Satchori's forest the next month. It was a splendid bird to observe, ferocious looking and much larger than the other Bazas I have seen.
For me the Black Baza was the hardest to find. It is a beautiful black bird, with a broad white band across its breast and a white pattern on its upperparts. I saw it in flight several times from the tower at Satchori, but always far. Some weeks ago, with the help of my guide Rahim, I found it perched in a tree in Kalenga forest. They have been known to congregate in large numbers, often by a stream. That is a sight I wait to behold.
The African Baza found in southern Africa remains the only Baza I am yet to see.
.
facebook.com/ikabirphotographs or follow "ihtishamkabir" on Instagram.