Bay of Bengal matters
Experts urge for boosting ties among seaside countries to harness marine resources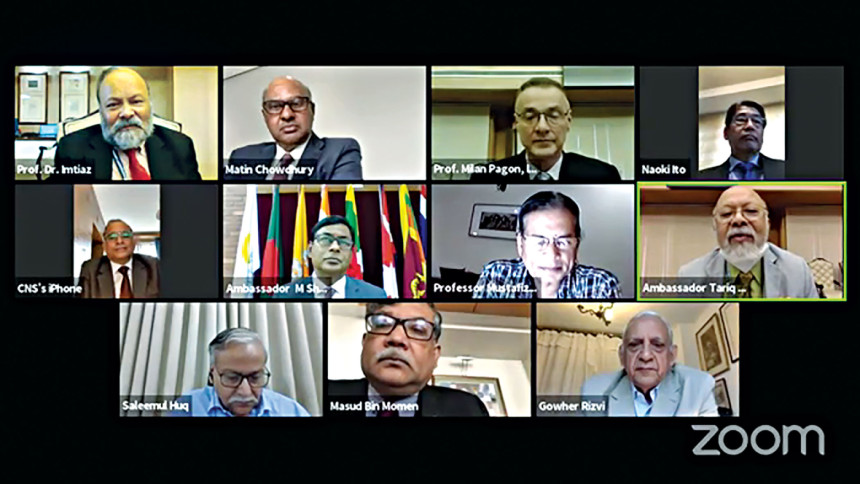 As the world economy is shifting towards the Bay of Bengal, Bangladesh should play a role in deepening ties among the seaside countries to harness the potential of marine resources instead of allowing confrontations that can destabilise the region, said foreign relations experts yesterday.
They said the Covid-19 pandemic has proved again that all countries are somehow dependent on each other in production and supply chain -- something that requires higher level of cooperation and collaboration. Ironically, rise of protectionist attitudes has been noticed.
The observations came at a webinar titled "Increasing political, ecological, economic and regional importance of the Bay of Bengal for Bangladesh in the post-Covid-19 world".
The discussion was organised by the Bay of Bengal Institute Project of Independent University of Bangladesh (IUB), International Centre for Climate Change and Development (ICCCAD) and Bangladesh Institute of Maritime Research and Development (BIMRAD).
It is the first of a four-part webinar series on the Bay of Bengal. The Daily Star is a media partner of the event.
Addressing as chief guest, Prime Minister's International Affairs Adviser Dr Gowher Rizvi said the Bay of Bengal has extraordinary opportunities, but there is a serious shortage of research on how the country or the region can benefit from it.
According to information available, half of the world's container traffic passes through this region, and its ports handles about 30 percent of the world trade.
The traffic on the seas has increased by 470 percent since 1970 and is likely to triple in the next 20 years. It is rich in mineral and marine resources.
Gowher Rizvi said harnessing the marine resources, its preservation and tackling the threats coming out of it require multi-disciplinary researches. Developing human resources and finding the right people already seeking to help the country is essential.
"Sadly, there is a huge gap between policymakers and policy analysts. We don't speak and thus remain in two different worlds. This culture needs a change for a greater cause," he said.
In his keynote, Foreign Secretary Masud Bin Momen said the rise of China and India to the status of major powers has completely recalibrated the importance of the Indo-Pacific to the world.
Apart from regional initiatives including Saarc, BIMSTEC and BBIN, there are two overlapping strategic processes across the cone of the Bay of Bengal -- namely, the US-led Indo-Pacific Strategy (IPS) and China-led Belt-and-Road Initiative (BRI), he said.
"At the end of 2020, what we see now is the re-emergence of a civilisational competition for dominance across all avenues of knowledge, technology, trade, finance, economy, and security -- which might directly impact the Bay of Bengal," said Momen.
He said with decades of back-breaking preparation and build up in the South China Sea, the critical fleet parity between the Chinese and the Western and Western-allied South and Southeast Asian nations is evolving fast.
From Chinese government sources, it appears that the BRI has been devised to render a new level of opportunity for countries involved and beyond. However, since 2016, the Chinese BRI is now in check by the US-led IPS that speaks of freedom of navigation, trade, peaceful resolution of territorial dispute, respect for sovereignty and transparency. 
"With such specific objectives in sight from all sides, we see important manifestations already taking place across all of the above areas," he said.
Noting that Bangladesh maintains the motto of "Friendship to all, malice towards none," and believes that no country on its own can be resilient enough, the foreign secretary said, "The solution is therefore to deepen ties and build alliances that bind the countries with common interests, shared geography, history and culture."
"The Bay of Bengal is our common strategic interlocutor for building such alliance," he added.
Japanese Ambassador Ito Naoki said Bangladesh and Japan both share the idea of "free and open Indo-Pacific", which is the key concept that serves everybody's interest in the region in the post-pandemic era, bringing about a win-win situation.
Naoki said currently, Rohingya refugee issues are common and of acute concern, and lasting solution to it will be instrumental in stabilising the Bay of Bengal region and enhancing human security.
"Japan will continue to support Bangladesh for its efforts and cooperate with Bangladesh to create an enabling environment for [Rohingya] repatriation," he said. 
Prof Mustafizur Rahman, distinguished fellow at the Centre for Policy Dialogue, said in the post-Covid world, countries are becoming more protectionist and as Bangladesh moves towards the middle-income country, it will face challenges in borrowing and market access.
Bangladesh, therefore, needs to go for bilateral trade agreements that will need stronger negotiation and diplomatic skills. Apart from that, there should be conscious efforts to deepen regional cooperation, he said.
Prof Imtiaz A Hussain, dean (acting) at the School of Liberal Arts and Social Sciences, IUB, said Bangladesh is at the crossroads from low-wage to hi-tech economy, while its global importance is much higher now. 
To face the challenges of coronavirus pandemic, it is imperative for the policymakers to open eyes and amplify efforts to strengthen local economy and connect to the regional and global economies with new vigour, he said.
A Matin Chowdhury, chairman of the IUB board of trustee, said despite challenges, Bangladesh is handling the pandemic quite well, and cooperation from the private sector and policy analysts will surely make things better.
He said IUB has partnered with ICCCAD and BIMRAD to bolster research activities on the Bay of Bengal, which would result in better understanding of the sea and its utilisation.
BIMSTEC Secretary General M Shahidul Islam, BIMRAD Chairman Admiral (retd) Nizamuddin Ahmed, IUB Vice-Chancellor (acting) Prof Milan Pagon also spoke at the webinar, moderated by ambassador (retd) Tariq A Karim, senior fellow at the Bay of Bengal Institute Project, IUB.