Bangladesh must adapt to avert perils of shifting global trends
Speakers tell BIPSS roundtable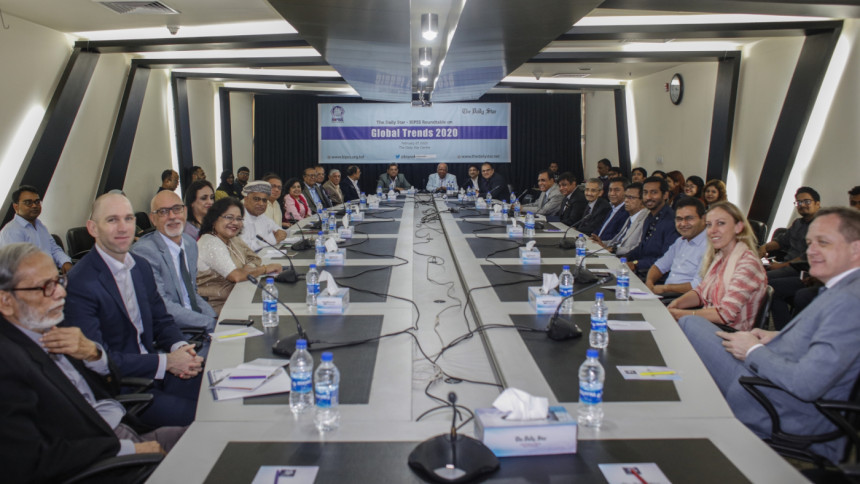 The ongoing shifts in global trends on different aspects including changing economies for fourth industrial revolution, rise of populism and pandemics like coronavirus have emerged as challenges, particularly for lesser-developed countries like Bangladesh, speakers at a discussion said yesterday.
In this context, the country needs to reshape its plans in all sectors -- including education, economy and diplomacy -- to cope with it and harness the benefits from it, they said.
Bangladesh Institute of Peace and Security Studies (BIPSS) organised the discussion at The Daily Star Centre in Dhaka.
Speakers discussed global trends including security and risks, geo-economics and trade, strategic, and technological trends.
Terming global strategic trends very complex, Prof Muhammad Ruhul Amin of International Relations at Dhaka University spoke of different pivotal factors -- including islamophobia, faith-based violence, hybrid war, and ineffectiveness of global organisations -- that are destabilising the world.
"After 9/11, the wars in Afghanistan, Iraq, Syria, Yemen and the Arab Spring caused the important strategic changes before us," he said, adding that a majority of these oppressed people are from a particular religion and ethno-national identity.
From the ethnic cleansing against the Rohingya minority in Myanmar to regulations imposed by the National Register of Citizens in India, breach of human rights based on identity has been a major disturbing trend, he added.
Parvez Karim Abbasi, an assistant professor of Economics at East West University spoke of the existing and upcoming threats due to the new coronavirus pandemic, which he terms "close to being a global epidemic".
Mentioning that China was the sixth largest economy during the spread of SARS virus, and is now the second largest, he said, "Global supply chain is deeply dependent on China. If [the economy of China doesn't recover quickly, the entire global economy will suffer."
Referring to an Oxford Economics forecast of one trillion US dollar loss of global GDP by 2020 due to the novel coronavirus, he said, "It is important how China recovers."
In face of such a pandemic, Bangladesh is very ill-prepared, he added.
Brig Gen Mohammad Shahedul Anam Khan, former associate editor of The Daily Star, highlighted the role of China and India in the world.
 "Asia is emerging -- led by China and India. The world must accept it," he said.
"China and the US are decoupling on the technology front in the 21st century. developed countries have become toxically polarised. Climate change matters as never before; however, the climate issue has been forced to take a back seat," Shahedul Anam Khan added.
Along with these, risks like failure to take climate action and infectious diseases like coronavirus -- are endangering the world, he added.
Parvez Ahmed, managing director of CompTech Network Systems, spoke about the challenges due to latest technology including 5G, artificial intelligence and blockchain.
"Everything in the future world will be driven by 5G and other technologies, where security would be major issue. But the third world [countries like Bangladesh] still have no capacity to cope with it," he said.
Ta'eeb Salim Abdullah Al Alawi, head of the Mission at the Oman embassy; Rear Admiral ASMA Awal, former ambassador and assistant chief of  Naval Staff; Bambang Prihartadi, minister councellor​ of the Indonesian Embassy in Dhaka; Frank Grützmacher Técourt, deputy head of Mission (political and cultural affairs) of the French embassy; Brig Gen Gyasuddin A Chowdhury Bir Bikram, Brig Gen (retd) Mirza Ezazur Rahman; and Kevin Ellerbrock, political officer of US embassy in Dhaka, also participated at the discussion.
Maj Gen ANM Muniruzzaman, president of BIPSS, moderated the session.