Artists put brushes aside to help doctors
Make reusable PPE for BSMMU physicians, staff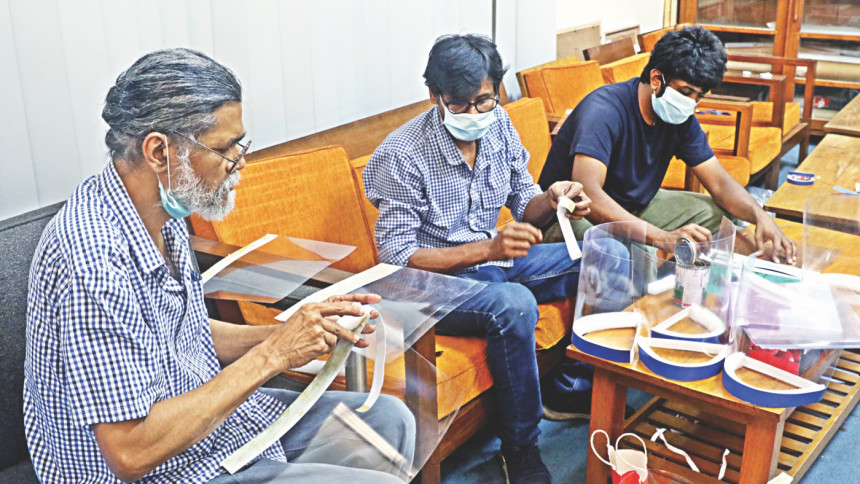 For students and teachers of Dhaka University's Faculty of Fine Arts, the beginning of April is usually a busy time, as the campus premises bustle with preparations for the Mangal Shobhajatra rally to usher in the Bangla New Year, marking Pahela Baishakh (on April 14).
However, the global coronavirus pandemic has put all celebration plans in the back burner, and the artists have also decided to join the fight against the virus. Instead of papier-mâché masks or traditional clay pot painting, artists and alumni of Charukola (DU's Faculty of Fine Arts) have been making personal protective equipment (PPE) for doctors, teachers, nurses, staff and sample collectors of Bangabandhu Sheikh Mujib Medical University (BSMMU).
Engr Mainul Abedin, youngest son of Shilpacharya Zainul Abedin, initiated the project, alongside Prof Nisar Hossain, dean of the faculty. For over a week, Prof Nisar held multiple discussions with Prof Dr Shahana Akhter Rahman, pro-vice chancellor of BSMMU, and Khondoker Manzare Shamim, head of its ICU.
Following their pointers on proper design and safety concerns, alongside WHO guidelines, Prof Nisar started the production of reusable PPE with approval from the Directorate General of Health Services (DGHS).
"Moshiul Azam Shajal, a senior vice president of BGMEA and a friend of ours, contributed the materials to make the PPE. We are planning to provide 3,500 units of the equipment," said Prof Nisar.
He said he, along with two alumni of the faculty and some teachers and volunteers who are currently in Dhaka, are working on the project. 
Prof Dr Shahana confirmed on Saturday that 1,545 units of PPE were handed over to BSMMU.
"Dhaka University is closed now, so there is a crisis of volunteers, while shops are also closed. We have issued a letter addressing shopkeepers concerned to provide us with necessary materials, and also to law enforcement agencies so that the FFA authority can do the job smoothly. We are sincerely grateful to all the artists," she added.
Prof Rafiqun Nabi, Mohammad Eunus, Prof Naima Haque, Kazi Ghiyasuddin, Prof Mostafizul Haque, Prof Shishir Bhattacharjee, Prof Sheikh Afzal Hossain, Ahmed Shamsuddoha, Anupam Huda, Dr Azharul Islam Sheikh Chanchal, Prof Syed Abul Barq Alvi, Mohammad Iqbal, Prof Lala Rukh Selim, Bishwajit Goswami were among those who contributed funds for the initiative.