Artefacts of different eras dug out in Mahasthangarh
Excavation also going on at Vasu Bihar
Archaeologists have discovered some Northern Black Polished Ware (NBPW) of Mauryan, Gupta and Pala dynasties along with other artefacts during their first excavation in Jahajghata area at Mahasthangarh archaeological site in Bogura.
The team has also dug out some iron objects, ancient ring wells, and terracotta balls of the Pala era.
The archaeological excavation started in Jahajghata and Boiragir Bhita on May 7, involving two teams.
In Boiragir Bhita, archaeologists found a damaged brick wall which they believe is a part of a Hindu temple and belongs to the Pala dynasty.
"We are excavating the Jahajghata area for the first time to reveal more history of Mahasthangarh, one of the most important archaeological sites in South Asia," said Mazibur Rahman, one of the excavation team leaders, and assistant director of the Department of Archaeology (DoA), Mahasthangarh.
"We have also found many bricks, potsherds and potteries which the last civilisation of Pundranagar had used," said Sadek Uzzaman, assistant director of the Department of Archaeology, Paharpur.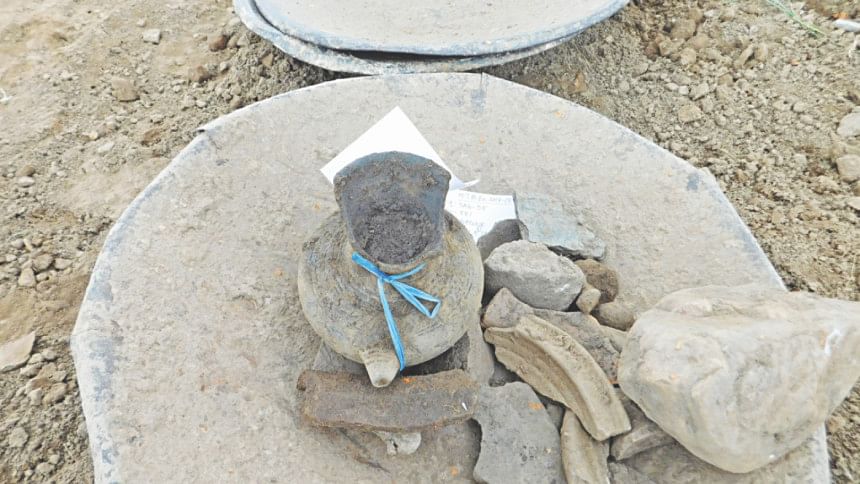 "It is presumed that members of the last civilisation in Pundranagar were not economically sound. But they used to save money and grains, as we have found many storage jars, pitchers and intact pots," said Mazibur.
Naheed Sultana, regional director of the Department of Archaeology, (Rajshahi, Rangpur), said, "We have explored the artefacts in the surface layer. We will resume the excavation in December."
The excavation was paused on June 13.
Meanwhile, another team started an excavation in Vasu Bihar, 8km west of Mahasthangarh, on October 13.
Primarily, the archaeologists found two stupas of the 7th century, which were a part of the Buddhist civilisation, said DoA official Mazibur.
The excavation will go on throughout November, he added.