Affiliation of 7 colleges: DU students continue demo
Students continue class boycott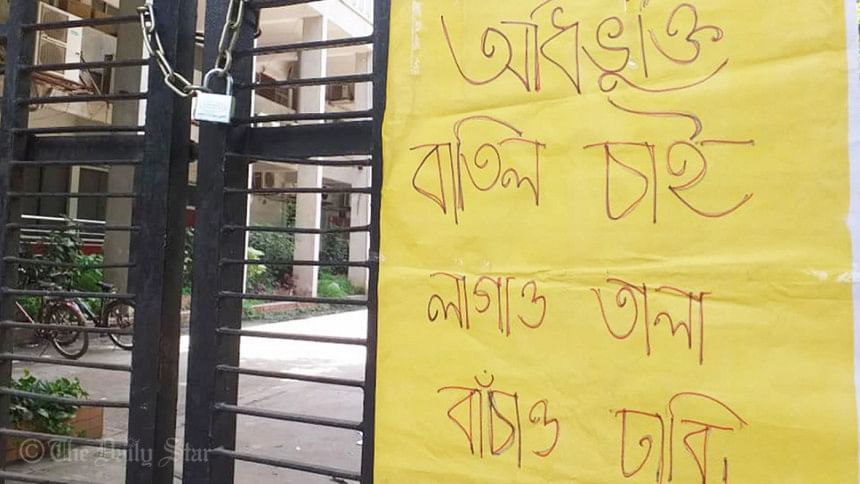 A group of students of Dhaka University put the academic and the administrative buildings under lock and key this morning demanding an end to the university's affiliation with seven colleges.
The students continued class boycott for the second consecutive day and locked the main entrances of Registrar building, Arts building, Curzon Hall, Mokarram Bhaban, Law faculty, Business faculty, Institute of Modern Languages, Institute of Education and Research, and Social Science buildings at 8:00am.
"We want an end to the affiliation as the university doesn't have the capability to bear the burden of the seven colleges," said Shakil Mia, one of leaders of the demonstrators.
He said the protests will continue until their demands are met.
The demonstrating students yesterday announced continuation of their movement demanding cancellation of the affiliation as the university authorities didn't assure scrapping its ties with the colleges.
Earlier on July 17, about 300 students, under the banner of general students, took to the streets at Shahbagh intersection in the capital on the same demand.
The affiliated colleges are Dhaka College, Eden Mohila College, Government Shaheed Suhrawardy College, Kabi Nazrul Government College, Begum Badrunnesa Government Women's College, Mirpur Government Bangla College, and Government Titumir College.
Meanwhile, Pro-vice-chancellor (administration) Prof Muhammad Samad on Sunday said they have no right to cancel the affiliation of seven colleges as the decision was taken by the government.
He came up with the remarks at a press briefing at the vice-chancellor's lounge.
Urging the striking students to return to classes, Prof Samad said talks will continue for continuation of the activities of seven colleges without disrupting regular DU students' academic activities.
"The DU authorities have no right to part ways with the seven colleges as the decision of affiliation was taken by the government," he added.
He asked the students to call off their protests until VC Prof Md Akhtaruzzaman returns from China.