87pc of daily earners faced challenges in getting food: report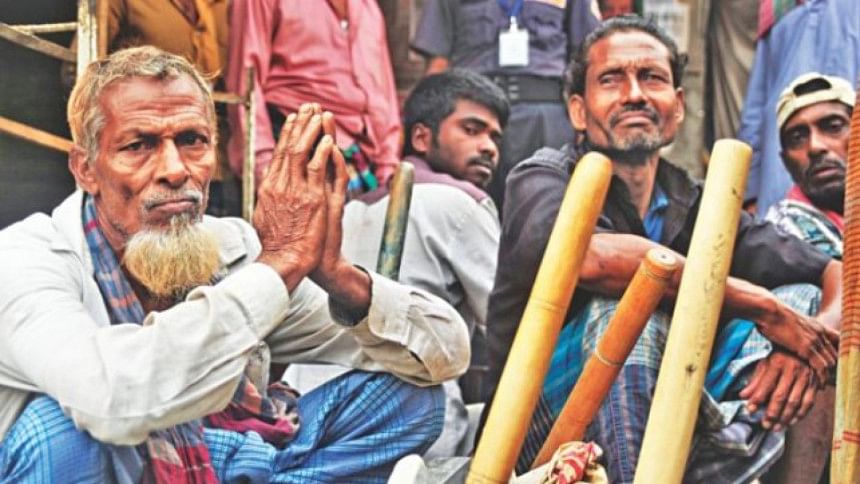 Livelihoods of a vast majority of daily-earning class people were hampered during the shutdown enforced for containing coronavirus infections, said a Right to Food Bangladesh survey report yesterday.
About 98.3 percent of 834 people surveyed all over the country were affected by it, the rights group said in a press release.
Besides, about 87 percent of economically vulnerable people surveyed faced challenges in getting sufficient and nutritious food, the report said.
Findings of the report "Impact of Covid-19 on Poor Peoples' Food and Nutrition" was disclosed during a virtual views-exchange meeting yesterday.
The survey was conducted on economically vulnerable urban and rural people, 43 percent of them females, who mostly survive on day-to-day earnings, in 37 districts of eight divisions across the country.
The respondents included rickshaw and rickshaw-van pullers, scooter and taxi drivers, transport workers, small shop-owners and staffers, hawkers, barbers, beauty parlour staffers, cleaners, domestic helps, brick kiln workers, labourers, shipping and e-trade service workers and farm workers.
The government announced a countrywide shutdown on March 25 to contain the coronavirus outbreak. The shutdown remained enforced for over two months.
The report said 5 percent of survey respondents had one meal a day during the shutdown, in contrast to 91.6 percent who used to have three meals a day, and the rest had two meals a day.
Respondents in Mymensingh and Sylhet divisions faced higher food shortage, while those in Rajshahi were deprived of nutritious food most.
It said about half the surveyed people received small food and cash support under different government and non-government initiatives.
During the shutdown, about 7 percent respondents changed their occupation and turned into either day labourers or farm workers.
As the shutdown was during Boro season, farm workers had sufficient work opportunities, it said.
The organisation suggested that the government increase its various support programmes including cash support to make emergency food support available to poor people.
RFB Chairman Qazi Kholiquzzaman Ahmad said the government should increase support for the poor and involve private sector NOGs in its initiatives.
He stressed the necessity for properly implementing government-announced stimulus packages.
Addressing the event as chief guest, food secretary Nazmanara Khanum affirmed that the country's overall progress has "slowed down a little" at present.
She said the government has provided food support to about 5 crore countrymen, including nutritious food for mothers and children.
However, it has to be agreed that overall food and nutrition security was affected during the pandemic, she added.