ABT targeted top editor
Claims Rab; 4 suspects arrested
Banned militant outfit Ansarullah Bangla Team had plans to assassinate an editor of a leading national daily for publishing an article that allegedly criticised the "hadith on marriage".
The Rab said they arrested four members of the outfit involved with the plan in the capital's Uttara early yesterday.
Shahriar Nafis alias Ammar Hossain, 20, Rasel alias Sajedul Islam Gifari, 24, Rabiul Islam alias Nurul Islam, 28, and Abdul Malek, 31 were arrested with Jihadi books, five mobile phones and three sharp weapons, said Mufti Mahmud Khan, director of Rab legal and media wing.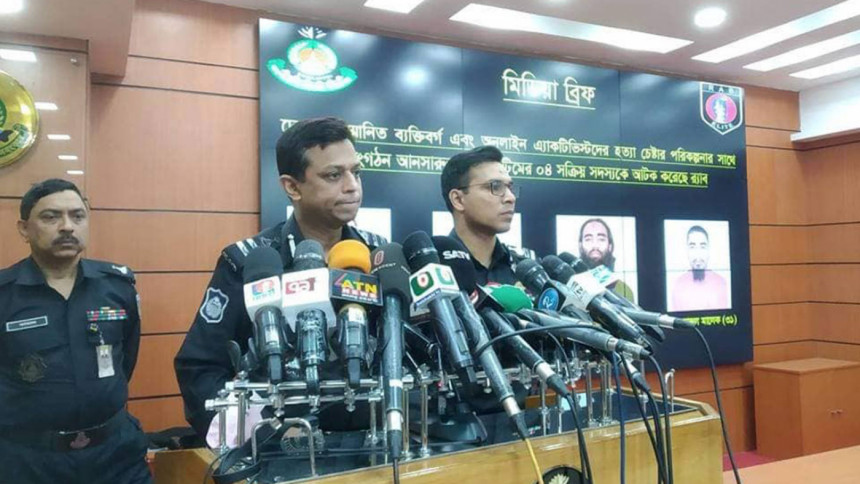 He added that the article was published in July last year.
The suspects told interrogators that the ABT had been trying to reorganise its activities.
"They had created a cell with 92 people. They had also been looking for arms and a suitable place in Patuakhali for to train themselves," Mahmud said.
However, the main plan of the outfit was to ensure the release of their jailed chief Jashim Uddin Rahmani and they were collecting funds to do so, he said.
"In case they failed to secure Rahmani's bail through legal proceedings, they had plans to bust him out," said Mahmud.
Of the arrestees, Ammar joined the ABT in 2017. He was involved with the recruitment of new members to the outfit. He had opened five Facebook groups and kept an eye on secular online activists. He also recruited Rabiul, who had completed a diploma in electric engineering from Bogura in 2015, the officer said.
Last week, he even went to Bogura from Dhaka with sharp weapons to kill an activist there. But the mission failed as the activist did not meet him, said the Rab spokesperson.
Rasel, a garment worker, also joined the ABT in 2017.  He used to collect funds and recruit new members. He was radicalised by watching inflammatory posts on Facebook. He had recruited   Malek.
The ABT first came into light after the murder of blogger Ahmed Rajib Haider in 2013. Its chief Jashim Uddin Rahmani has been convicted for the murder.
The government banned the outfit in 2015. Its members then regrouped with the name Ansar Al Islam.  After the government banned Asnar Al Islam in 2017, the suspected militants took up the name Al-Qaeda Indian Subcontinent, law enforcers said.