A new Dhaka envisioned
At exhibition of urban designs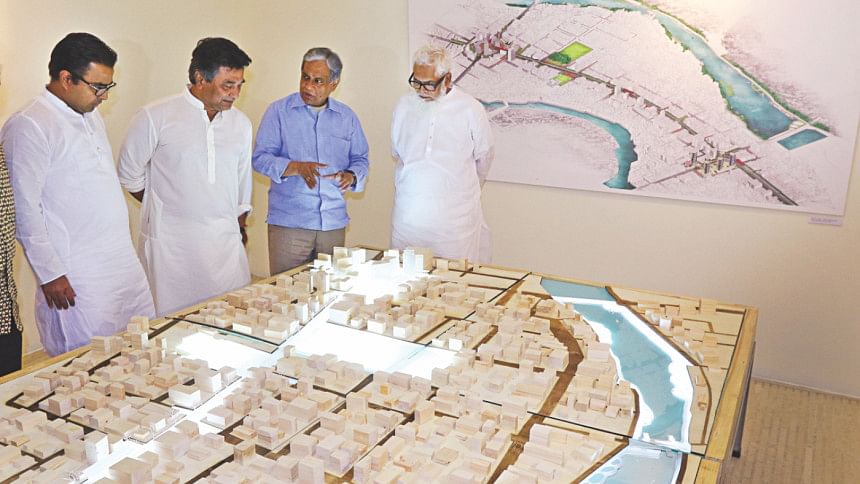 Circular transport systems based on railway, waterway and roads can resolve Dhaka city's urban transportation challenges, said architect Kazi Khaleed Ashraf, director general of Bengal Institute, in the capital yesterday.
Two railway hubs could be established in Gazipur and Keraniganj instead of chocking the city with one in the core of it, he said in his presentation at the inauguration of an exhibition of urban designs on regeneration of the Buriganga river banks and two Gulshan commercial hubs at Bengal Art Lounge in Gulshan.   
Success of the upcoming metro rail system would depend on a functional pedestrian system, which is now lacking, he said.
A light rail system stretching from Khilkhet across Gulshan, Hatirjheel, Karwan Bazaar to Dhanmondi could serve a significant transport demand, he said.
Sadarghat and Keraniganj banks of the Buriganga have to be reclaimed for civic activities and recreation through reorganisation of the banks that would help recreate the river's panoramic view, he said.
He said reorganisation and recreation of the two commercial hubs at two Gulshan roundabouts could provide opportunities for creating public plazas and commercial complex together.
The challenges Dhaka city is facing in its urbanisation process have to be resolved with decentralisation and redistribution of facilities and population density, he said, adding, regional, social, economic and hydrological planning with an integrative approach is vital for an efficient and productive urbanisation.
It is time to ponder whether the urbanisation presently experienced is modern and humane, he said. Creating urban core is not all, cities have to have an ecological landscape comprising peripheral agriculture and wetlands.
Finance Minister AMA Muhith however said the plan for any ambitious urban generation would have to be aimed at practicable priority to achieve success.
Nasrul Hamid, a Keraniganj lawmaker and state minister for power, energy and mineral resources, said any such plan should be in keeping with existing government master plans.     
Dhaka mayors Annisul Huq and Mohammad Sayeed Khokon pointed out financial constraints and practical challenges in developing urban amenities.
Abul Khair, chairman of Bengal Foundation, also spoke. 
The exhibition will remain open to public from November 1 to 20.