NBR observes Nat'l Income Tax Day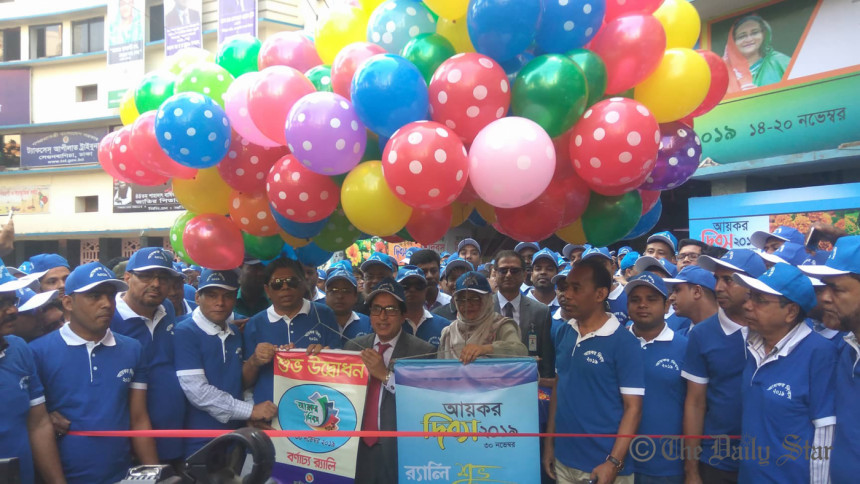 With a target to raise awareness on income tax and encourage people to pay taxes regularly,  the National Board of Revenue (NBR) organised a colourful rally in Dhaka this morning.
The rally was brought out marking National Income Tax Day-2019 at Segunbagicha.
This year's slogan is "Shobai miley debo kor, desh hobey shonirbhor" (Let's all pay taxes, and make the country self-reliant).
The NBR is also observing the event at all the divisional headquarters of the country today.
An income tax fair began on November 14 across the country. NBR said it collected Tk 357,79,55,734 as income tax during the fair.
NBR honoured 518 taxpayers with certificates, while 141 other taxpayers were awarded with tax cards in three categories.
President Abdul Hamid and Prime Minister Sheikh Hasina issued separate messages on the occasion, UNB reported yesterday.
In his message, the president said all the developed countries in the world collect revenue mainly from income tax. Bangladesh is heading towards development with Vision 2021 and Vision 2041.
Income tax collection is not only a source of revenue but also an effective medium of establishing socio-economic justice by eradicating discrimination, the president said.
Prime Minister Sheikh Hasina, in her message, said the main goal of income tax collection is to ensure establishment of social justice and equality.