Murder of Drik official: Protesters demand justice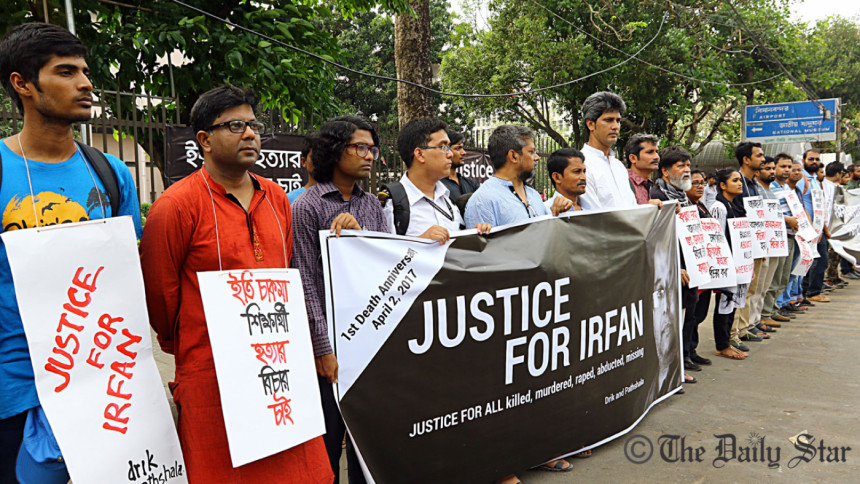 Protesters this afternoon demanded justice for Drik official Mohammad Irfanul Islam who was found dead in the bushes beside the Dhaka-Narayanganj Link Road on the evening of April 2 last year.
The demand came at a human chain formed by Drik Gallery and Pathshala in front of National Museum at Shahbagh in Dhaka.
Speaking at the occasion, Jahanagirnagar University Professor Anu Muhammad said none has the security in the state now.
"Anyone can be targeted anytime," he said alleging, "Apparently there has been no cure to tackle abduction and killings."
He said that the incidents like forced disappearances, murder and extra-judicial killings remain "clueless" as such things reveal characteristics of the government. 
"Those who raise question about any practices face attacks at present," Anu Muhammad, also the convener of National Committee to Protect Oil, Gas, Mineral Resources, Power and Ports.
Among others, Gano Sanghati Andolon convener Zonayed Saki and Drik Managing Director Shahidul Alam spoke at the function.
Hours after Irfanul, 48, an accounts and admin official, had gone missing from Dhanmondi, he was found dead in the bushes beside Dhaka-Narayanganj Link Road in Jalkuri area of Narayanganj on April 2 last year.
One year into the investigation, law enforcers are yet to find any clue to the murder.