Mohiuddin declares Latif persona non grata in Ctg over doctoring Bangabandhu's photo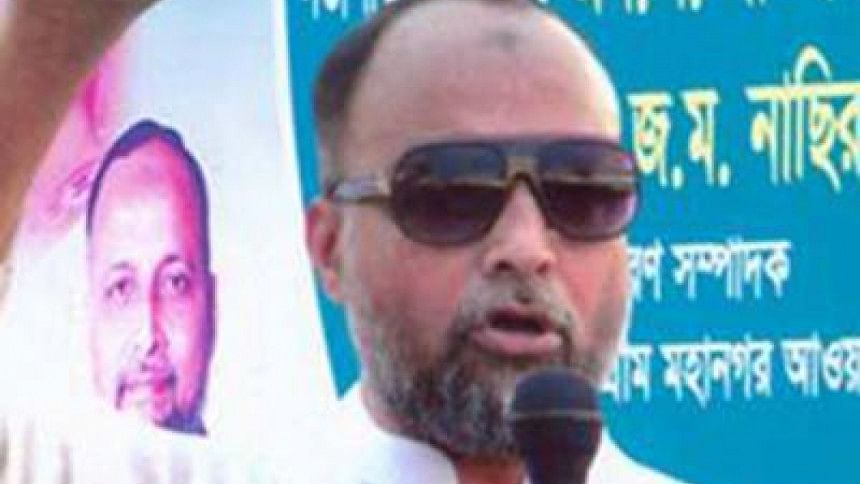 Ruling party lawmaker MA Latif was declared persona non grata in Chittagong today for distorting the image of father of the nation Bangabadhu Sheikh Mujibur Rahman.
Awami League Chittagong city unit president ABM Mohiuddin Chowdhury made the declaration at a huge rally held in city's Laldighi Maydan.
READ MORE: MA Latif earns ire of party colleagues
AL Chittagong city unit president also gave a 15-day ultimatum to arrest MA Latif and to bring him to book.
The rally was organised by Nagarik Manchha Chattragram where thousands of activists of Bangladesh Chhatra League, Jubo League and other wings of the ruling party took part to express their grievances.
On the occasion of the Prime Minister Sheikh Hasina's visit to Chittagong, several festoons and banners with the tampered image of Bangabandhu Sheikh Mujibur Rahman were seen hanging at Bandar and Patenga areas of the port city.
ALSO READ: Sedition case filed against AL's Latif over doctoring Bangabandhu's photo
Bangabandhu's face was allegedly tagged with the figure of Latif. The lawmaker's name was at the bottom of the festoons. In the image, Bangabandhu's face was used on a body wearing salwar and sneakers.
Latif, however, at a press conference on February 7, said that the designer of the festoons and banners tempered the photo of Bangabandhu keeping him in the dark.
In his speech, Mohiuddin Chowdhury lambasted Latif as a conspirator and black sheep as he is working for Pakistan. He warned those who were helping MA Latif behind the scene and urged the government to confiscate the rogue lawmaker's property after putting him behind bars.