Justice Manik comes under attack in London
His daughter blames 'BNP forces'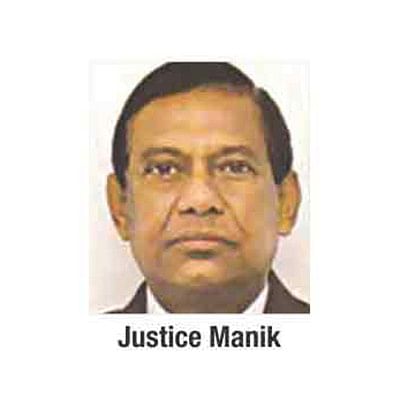 Justice AHM Shamsuddin Choudhury, a former Supreme Court judge, has come under attack in London, says his daughter Nadia Choudhury in her Facebook account.
"Please keep us in your prayers. We got attacked (Wednesday) right after landing in London, the city where Tarek [Tarique] Zia has comfortably settled in, and where his mother, leader of the opposition party BNP is also currently visiting," she wrote on her Facebook status.
Contacted on Thursday, Nadia told UNB that she has already made the status public for media friends though it was initially restricted following privacy settings.
"These young thuggish, well-built men didn't even know dad by face and there's no doubt they had received instructions from terrorist BNP forces," she mentioned at the end of her Facebook note.
"On our way home from the London Heathrow airport, dad spontaneously decided to make a detour to see the Durga Pooja at York Hall in Bethnal Green, where, he came to know, many of his acquaintances were present at the time," Nadia wrote.
They stayed there for about five minutes when her father also delivered a speech, upon request, wishing everyone a happy Puja.
"After we came out, we crossed the road to get into the car from the Bangladesh High Commission to go home and just about then I realised a man walking very close to my father as if ready to pick him up, while gesturing and asking 'is this him'," she wrote.
As she noticed the man, she covered her father from behind from that man after which he came in front of her father's face and asked 'are you Justice Shamsuddin Choudhury'.
Without answering, her father tried to pull away when a few other men came towards them and started kicking and hitting her father, she narrated.
"I shielded dad as best as I could and hit the men, too, but they kept kicking away at dad as he lay on the floor. We were both screaming for help for well over 30 seconds. They took dad's phone," Nadia wrote.
As she turned around, she was shocked to see a crowd of spectators who did absolutely nothing as they were being attacked and simply watched from the other side of the road.
"This happened right in front of the hall where such a big festival full of thousands of people was taking place. Dad was attacked in a similar manner near our home in London a few years ago as well," Nadia wrote further.
She said they have informed the police about the attack.