Indonesian minister here to discuss Rohingya issue
Seeks lasting solution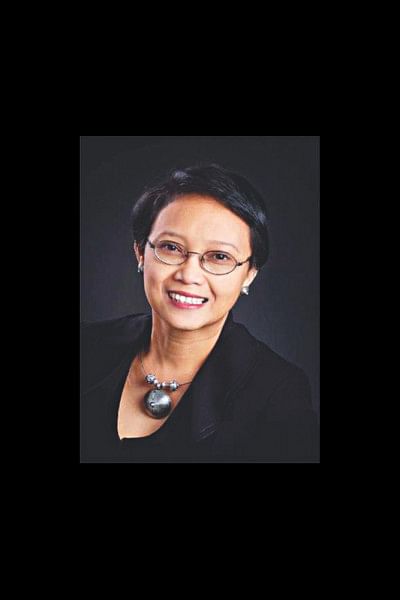 Indonesia's Foreign Minister Retno Marsudi arrived in Dhaka last night to discuss with high government officials the current ethnic cleansing and persecution on the Rohingya Muslim minority in Myanmar's western state of Rakhine as well as finding a lasting solution to the Rohingya crisis.
During her 24-hour visit, she will be discussing Rohingya issues with Prime Minister Sheikh Hasina and her Bangladesh counterpart AH Mahmood Ali, and visit Ukhia to see the conditions of Rohingya refugees, according to diplomatic sources.
Marsudi came to Dhaka after attending a meeting along with the foreign ministers from the Association of Southeast Asian Nations (Asean) with Myanmar State Counsellor and Foreign Minister Aung San Suu Kyi in Yangon yesterday.
Myanmar leader Suu Kyi met with regional foreign ministers to tackle growing international criticism of her army's forceful treatment of the country's Rohingya minority, which some critics say, constitutes crimes against humanity.
She came to Bangladesh to talk about the Rohingya issues as Indonesia wants to comprehensively address problems related to Rohingyas fleeing along the Myanmar-Bangladesh border, said a foreign ministry official, adding all countries that attended the meeting in Yangon freely expressed their opinions in an effort to reduce regional concerns over a situation in northern Rakhine.
Human rights groups have accused the military of perpetrating mass murder, looting and rape against the Rohingya in Rakhine, where the army went on a counterinsurgency offensive after an October attack there on police outposts that killed nine officers.
According to Indonesian embassy  officials, Foreign Minister Retno Marsudi will hold a bilateral meeting with Bangladesh Foreign Minister Mahmood Ali today and then together they fly for Cox's Bazar by helicopter to visit the Rohingya refugee camp in Ukhia.
Upon return from Ukhia, she will call on Prime Minister Sheikh Hasina at Gono Bhaban at 5:00pm and depart for Jakarta tonight.
In Myanmar, Marsudi asked Myanmar to open up Rakhine to humanitarian aid and assistance so the situation does not deteriorate for civilians in the impoverished area.
Myanmar has said that at least 93 people -- 17 police and soldiers and 76 alleged "attackers" (including six who reportedly died during interrogation) -- were killed and some 575 suspects detained in the October 9 attacks and a subsequent military crackdown.
Rohingya advocacy groups, however, claim that around 400 Rohingyas -- described by the United Nations as among the most persecuted groups worldwide -- were killed in the military operations, women were raped, and Rohingya villages torched.
On December 16, the UN's High Commissioner for Human Rights warned the Myanmar government that its "short-sighted, counterproductive, even callous" approach to handling the crisis could result in "grave long-term repercussions" for the country and the region.
"The repeated dismissal of the claims of serious human rights violations as fabrications, coupled with the failure to allow our independent monitors access to the worst affected areas in northern Rakhine, is highly insulting to the victims and an abdication of the government's obligations under international human rights law," Zeid Ra'ad Al Hussein said in a statement.
Expressing "deep" disappointment that the UN Human Rights Office's requests for access had not received approval, he added, "If the authorities have nothing to hide, then why is there such reluctance to grant us access? Given the continued failure to grant us access, we can only fear the worst."